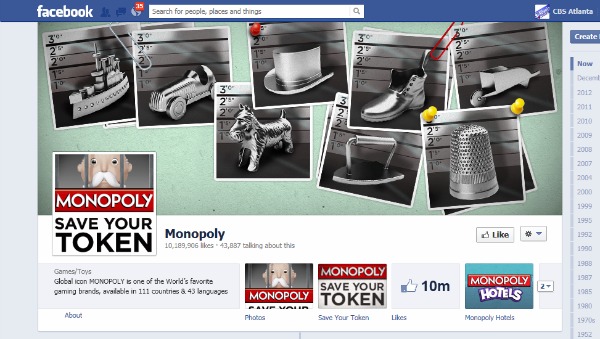 Monopoly's Facebook page
PAWTUCKET, RI (CBS46) -
One of Monopoly's classic playing pieces is about to go to jail.
Hasbro, the maker of the classic board game, wants to bring in a more modern token, but first, one of the current tokens has to go.
Currently, players can choose from a battleship, top hat, iron, racecar, Scottie dog, shoe, thimble or wheelbarrow.
All of the tokens were introduced to the game in 1935, except the Scottie dog and the wheelbarrow, which were introduced in the 1950s.
The new tokens in the running to replace one of the old ones are a cat, a helicopter, a diamond ring, a guitar and a robot.
You can vote out an old token and vote in a new one on the Monopoly Facebook page, which has 10 million "likes." Click here to vote.
Copyright 2013 WGCL-TV (Meredith Corporation). All rights reserved.