SPECIAL REPORT: Fort Benning officials react to lead exposure cases on post with town hall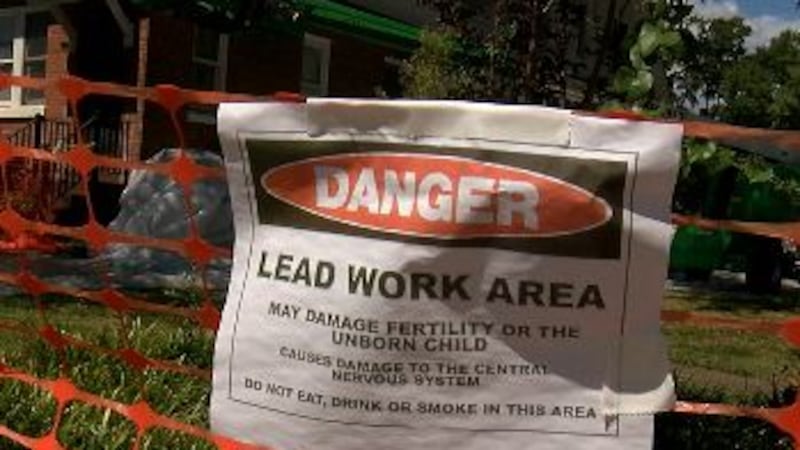 Updated: Sep. 17, 2018 at 11:58 AM EDT
FORT BENNING, GA (WTVM) - In a News Leader 9 special report, WTVM was the only TV station there during a town hall on Fort Benning over the weekend.
The town hall put together by officials to address concerns about lead poisoning and exposure on post at Fort Benning. This after a lengthy national media outlet investigation, which officials say doesn't tell the true story.
Our Chandler Morgan has been investigating these issues for several weeks.
It's important to note, Fort Benning officials did not allow News Leader 9 to record audio or video of those attending the town hall for identity reasons.
But officials arranged this meeting to set the record straight for Fort Benning and its residents surrounding concerns of lead exposure levels through on post housing specifically with children.
Here's some background information residents received early in the townhall on exposure versus poisoning:
Senior Army Officials cited the CDC for these numbers and information on someone who's Blood Lead Levels test above five Micrograms Per Decilitr; which is considered above the threshold.
A child poisoned by lead, means they're showing symptoms and their levels are 45 mcg/dl.
That's different than a child exposed to lead—which means they show no symptoms and their levels range between 10 to 20 45 mcg/dl. We sat down with Garrison Commander Colonel Clinton Cox to talk about the numbers and the reactions of the townhall.
"As we started to understand that lead based paint or exposure to lead based paint through peeling chipping or all the ways you can come into contact with it, that's really just one exposure risk," says Cox. "I care, all leadership [on Fort Benning] cares."
Now here's why the background information is important - let's take a look at the numbers of lead cases from Fort Benning alone over a six-year period.
Officials reported these numbers at the town hall—31 total lead cases—of that 19 were off post and 12 were ON POST. Of that 12—8 cases were newer homes. And four were before 1978 homes—which are homes that may have more susceptibility to lead paint or hazards.
Officials say it's important to note that out of these 31, there was only one lead poisoning case.
"It would be next to impossible not to come in contact with lead or lead exposure throughout our daily activities," says Cox.
While at the town hall, officials encouraged members to take special note of their daily activities; including the duties they perform at Benning, such as firing off ammunition which has lead in it, which may leave behind residue and be possible exposure factor with in contact with their family or small children.
While attending the town hall, member received a 'Lead Exposure Family Risk Assessment' pamphlet listing hazards, exposures, and risks with resources as shown below.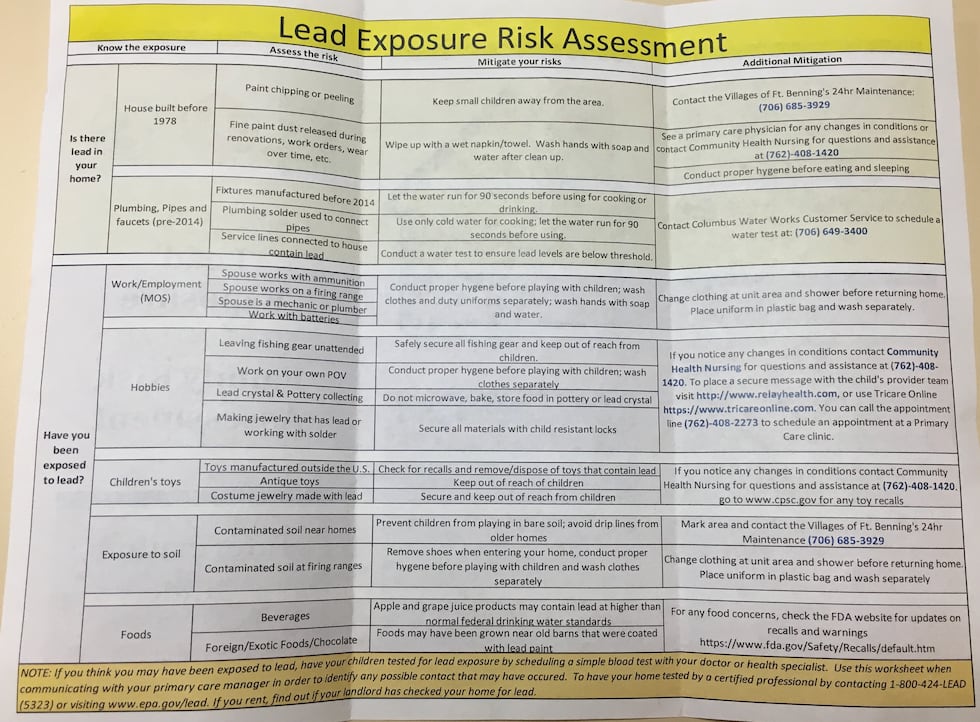 "I'm looking at those risk factors and all those exposure chances and I can account for a lot of those, I mean I live in a historical home on the installation," says Cox.
That topic, on post homes, coming up in nearly every question asked by town-hall audience members.
Members of the audience continuously voiced their frustrations when it comes to standards and protocol for the on-post management, the Villages at Fort Benning.
At one point, a Senior Army Official saying quote... "Do I think the Villages were doing everything they could? No."
Since that August report, Benning officials say they certified 54 more staff members for EPA certification, that means—identifying—lead hazards and treating them. According to EPA and GA EPD guidelines, for an interior room, if affected area is larger than 6 square feet, the job must be contracted out to AN EPA licensed, certified firm to complete the job. For the exterior of a home, if affected area is larger than 20 square feet, the job must ALSO be contracted out to EPA licensed, certified firm to complete the job.
"The strategies we have right now we are going to continue to develop them and look for more opportunities," says Cox.
So here's where we are now; officials say with the new certifications of staff, each time a resident moves into a home on post, they will have a certified staff member with them for a walk through to identify and remaining possible lead hazards in the home to make sure those are reported and fixed prior to residency.
Cox also says he has a verbal commitment that the Villages at Benning will continue to monitor lead reports and make it a first priority to fix reported issues.
Officials say households who have reported lead issues on post will be addressed within 24 hours of report and households with pregnant members or children 6 and under will have first priority.
News Leader 9 will continue to monitor and followup with developments in this investigation.
Click here for the full Reuters report.
Copyright 2018 WTVM. All rights reserved.