'Margie's Law' would require healthcare facilities to notify patients of dense breast tissue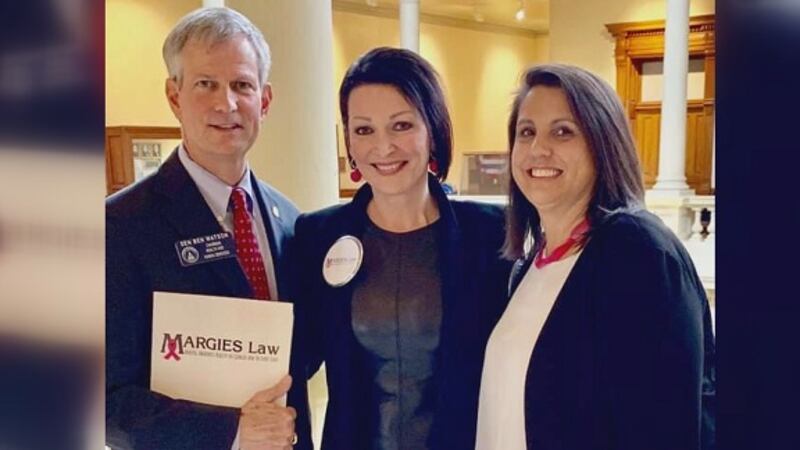 Updated: Feb. 21, 2019 at 6:24 PM EST
SAVANNAH, GA (WTOC) - State legislation was heard by the Senate Health and Human Services Committee on Wednesday.
House Bill 62, also known as "Margie's Law," would require a healthcare facility conducting mammograms to tell a patient if dense breast tissue was detected. A Savannah woman is advocating for the law since she was diagnosed with breast cancer.
In August of 2017, Margie Singleton went for her scheduled 3D mammogram. It was clear.
Fast forward six months later, she finds a lump in her breast that was sore to the touch. She had an ultrasound and found that the lump was a 3.6-centimeter mass and she was diagnosed with breast cancer.
She had two more 3D mammograms that day and the cancer was not detected because she had dense breast tissue, but doctors knew it was there because of the ultrasound.
That's when Margie's Army was formed. Her large group of friends surrounded Margie and walked with her through her journey.
"She found out that her diagnosis was probably delayed by the fact that she had dense breast tissue. None of us knew about that. I've been in healthcare for 30 years and I've had multiple mammograms and never knew about breast density and its impact on your health," said Lisa Rexroat Walls, Director, Margie's Army.
Lisa Walls met Margie over 20 years ago. She says after Margie found out about her dense breast tissue, she wanted to do something to help other women. Margie's Army came together to form House Bill 62 - Margie's Law.
"Part of the legislation is that you notify us that our breast tissue is dense if they are and let us know that it may lead to an increase cancer risk as well as it makes it harder to see on this mammogram."
Dr. William Burak at Memorial Health says he supports this legislation and can see the advantage.
"We are just trying to have something in place where the radiologist who reads the mammogram is required to state something about the breast density and communicate that to the patient so then the patient can make the decision with their primary care or specialist on whether they should get any additional testing," Dr. Burak said.
Additional testing can be an MRI or a breast ultrasound. Dr. Burak says these tests could detect the small cancers that are sometimes hard to detect in dense tissue.
"Just inform them that to think about other, especially if there is a family history or they are high risk for another reason that maybe they want to get that additional testing," Dr. Burak said.
Wells says a lot of states have already passed the bill and she hopes Georgia will follow in their footsteps.
"There are already 37 states with this legislation in place. We want Georgia to be number 38."
Currently, Margie is taking maintenance treatments every three weeks and there is no current evidence of cancer .
WTOC will continue to follow this story and let you if it becomes a law.
To read more on tracking a bill through the General Assembly, click here.
Copyright 2019 WTOC. All rights reserved.