Concrete pour at downtown Cincinnati building caused 7th floor to collapse on 6th floor injuring 4, 1 still missing
Four released from hospital, Turner Construction says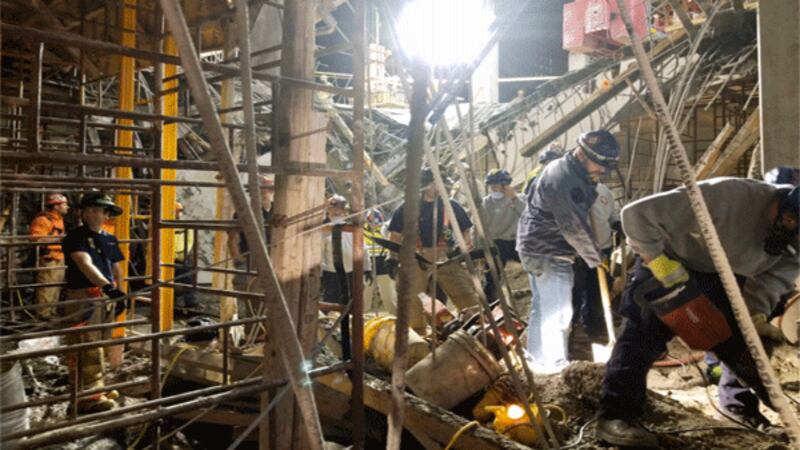 Updated: Nov. 26, 2019 at 7:59 AM EST
CINCINNATI (FOX19) - Concrete pouring on the seventh floor of a downtown Cincinnati building under construction caused a partial collapse into the sixth floor that injured four workers and may have killed a fifth.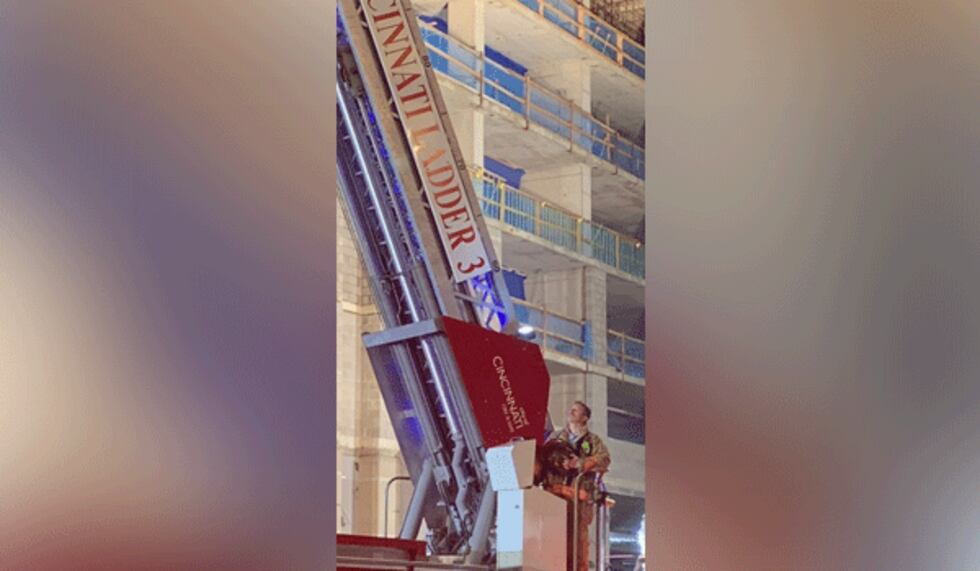 Search and recovery efforts for a missing construction worker by local and state emergency crews extended into Tuesday after the partial building collapse Monday afternoon.
"Cincinnati Fire and Urban Search and Rescue Teams from all over the state work into the night in search of a victim at the building collapse on 4th Street. They use advanced tools and extreme will power to accomplish their mission," reads the latest update from Cincy Fire & EMS Twitter account.
The accident happened at a building under construction on the corner of 4th and Race Streets Monday at 1 p.m.
Crews used jackhammers at the scene as rescuers worked to break through concrete. Those sounds subsided about 6 a.m. We are expecting it to start back up again shortly.
Several roads and bus routes Downtown remain impacted by the collapse and search.
RELATED| LIST: Roads closed, buses detoured as search continues for missing worker in partial collapse Downtown
In a press conference at the scene Monday night, Hamilton County Coroner Lakshmi Sammarco would not confirm the missing worker is dead, holding out hope for a 'miracle' as crews continue to dig through the construction site at Fourth and Race streets.
"They are hoping for a miracle. We're hoping for a miracle. We are preparing for not, unfortunately," she said.
In a letter to members of Cincinnati City Council, also released Monday night, however, City Manager Patrick Duhaney said first responders are "transitioning from a rescue effort to recovery mode" in their search for the missing worker.
"It goes without saying," Duhaney wrote, "that this is a horrible tragedy. Our thoughts are with the family of all those affected particularly the individual who has not yet been found. We are all praying for a miracle."
Four workers were injured at the construction site Monday afternoon, according to the latest update from Turner Construction. All were treated and released from hospitals.
At least two of the construction workers were taken to the University of Cincinnati Medical Center and one went to Christ Hospital, Cincinnati Fire Chief Roy Winston said.
The workers were on the fifth floor of the building when it collapsed about 1 p.m., he said.
Concrete was being poured on the seventh floor when it became too heavy, and the roof above the workers collapsed.
The fire department, he said, has a collapse protocol that was followed by what he called a 'two-alarm response.'
Emergency crews are conducting interviews and investigating.
Hamilton County Urban Search and Rescue is also assisting the efforts.
Ron Howard is a building manager on West Fourth Street.
"(I was) just sitting at my desk and I heard a loud noise outside and I looked across, saw the construction workers looking up, and at the same time I saw beams of metal falling down," Howard told FOX19 NOW at the scene. "I was like, 'Holy cow.' Those guys, I watched them dive for their safety and ran outside immediately to see what was going on."
Dustin Baker, who was installing new carpeting at a nearby hotel when he saw the collapse, says he knows some of the men who work at the construction site from having run into them during busy days downtown.
"We've been working here since they started this," Baker explained. "I never thought I'd see something like that. The first thing I thought was, I hope everyone is O.K."
3CDC is the developer for the future building's commercial space and the garage, which was topped out last month, according to a release. Flaherty & Collins, 3CDC says, is developing the apartments above, with Turner Construction serving as the general contractor for the entire project.
"Construction will be paused as project partners work to determine the cause of the collapse and confirm the structural integrity of the rest of the building," 3CDC said.
In a statement Monday, Turner Construction Company said:
"Earlier today at the Fourth and Race Street project, a section of temporary concrete form work collapsed during a concrete pour on the sixth floor. We are aware of injuries to three workers. First responders were called and all construction activity was halted. First responders provided immediate care and the injured workers were transported to nearby hospitals. Recovery efforts are ongoing. Counseling services will be made available to all workers on site. We work extremely hard to prevent days like this and our thoughts are with the injured workers and their families."
Turner also confirmed the other companies involved on the site are Gateway Concrete Forming and Baker Concrete.
Copyright 2019 WXIX. All rights reserved.