TIPS: Severe Thunderstorm Safety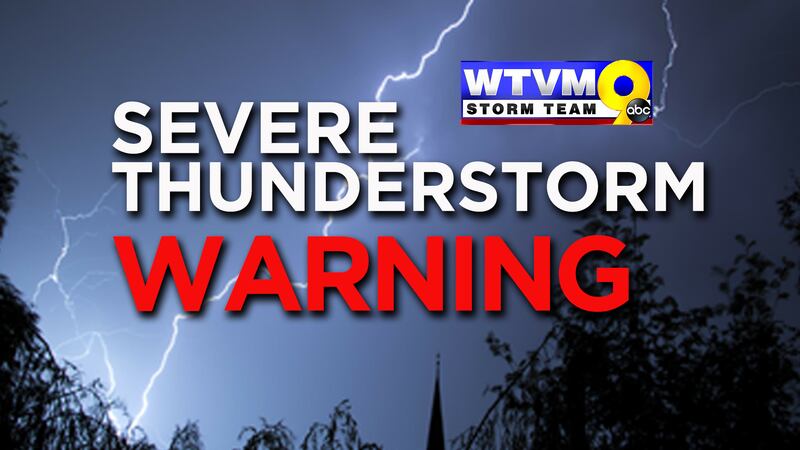 Updated: Feb. 7, 2020 at 11:35 AM EST
COLUMBUS, Ga. (WTVM) - What is a Severe Thunderstorm?
A storm is considered 'severe' if it has winds of 58 mph (50 knots) or more, and/or hail the size of a quarter (1" in diameter) or larger.

Severe thunderstorm warnings aren't issued for lightning, heavy rain, or how 'loud' a storm can be.
Severe Thunderstorm Safety Steps
If you have enough of a heads up on a day when we expect severe thunderstorms, secure outdoor items in your yard and remove dead trees and limbs from around your home.

Postpone outdoor activities & driving until after the storms pass.

Move inside and monitor weather for changes/updates.

Be ready to move into an interior room if conditions worsen or if you are worried about falling trees around your home.

Stay away from windows and off wired electronic devices.

Make sure your Storm Team 9 Weather App is properly set up to send you new alerts or let you know when the threat has passed.
Remember, storms that aren't considered severe may still have big impacts!
They can blow down limbs and weakened trees, make driving difficult, or have an impact on life and property.
These storms won't carry an official warning, but if you follow updates on the WTVM weather app, you may be able to receive a 'heads up' with push alerts when these storms threaten.
The National Weather Service may also issue something called a 'significant weather alert' which you will see on your WTVM weather app. This is a step just below a severe thunderstorm warning, put out when a storm may still have big impacts.
Copyright 2020 WTVM. All rights reserved.