National Guard teams disinfect nursing homes with positive COVID-19 cases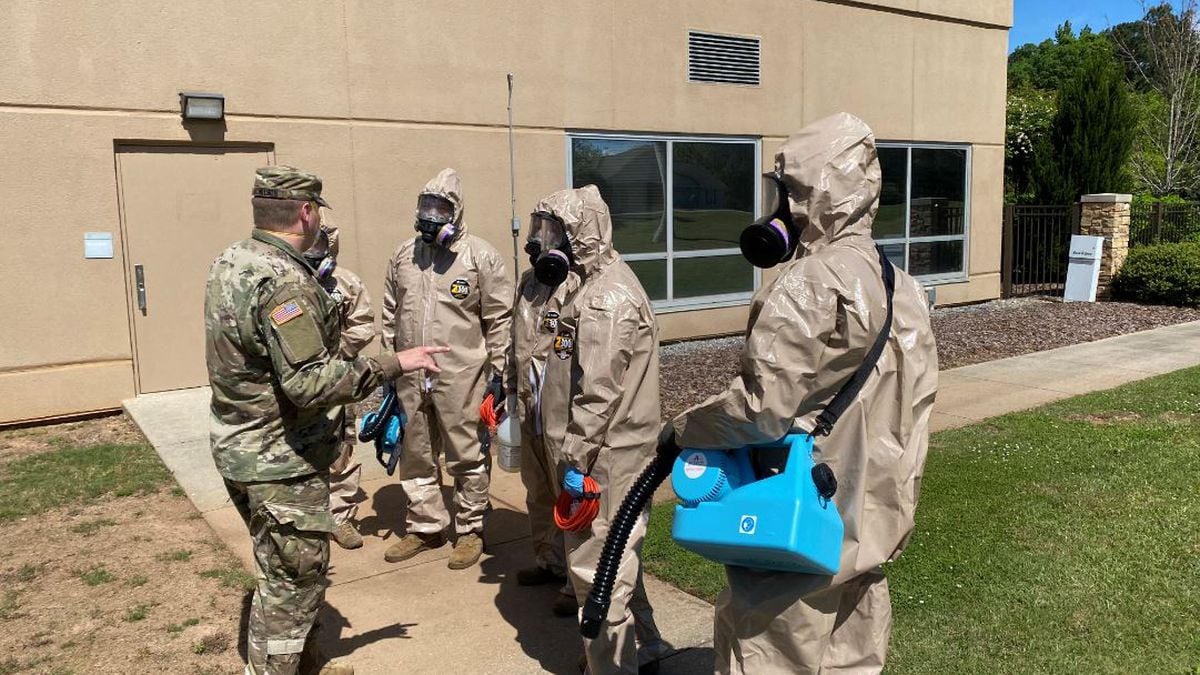 Updated: Apr. 18, 2020 at 6:00 PM EDT
BIRMINGHAM, Ala. (WBRC) - UPDATE: Saturday morning the Alabama National Guard deployed a specialized unit, Task Force 31, to the Bill Nichols State Veterans Home in Alexander City in the state's response the COVID-19 pandemic.
Members of the task force, equipped with protective equipment, moved through veterans disinfecting rooms with close coordination with the home's staff.
Members of the task force team received an operational briefing and were donned with personal protective equipment (PPE) before entering the home. After residents were moved to isolated protective areas in the home, the task force team began the operation that covered residents' rooms, hallways, common areas, and administrative offices.
The task force is organized with specialized teams that are equipped and trained to disinfect long-term skilled care facilities.
"There were many heroes present today as this operation was carried out at the Bill Nichols State Veterans Home. Those heroes are the veterans who are entrusted in the home's care, the staff who report to work daily to care for their needs, and the men and women of the Alabama National Guard who professionally conducted this operation," added Davis.
ORIGINAL: The Alabama National Guard has been tapped to disinfect nursing homes that have COVID-19 positive residents and employees.
The National Guard teams will disinfect the homes and will train staff on the techniques of putting on and taking off personal protective equipment.
"The Alabama National Guard is here to serve our citizens, and I'm glad Governor Ivey asked us to take on this important mission," said Major General Sheryl E. Gordon, adjutant general of the Alabama National Guard. "Our specially trained soldiers are prepared to assist nursing homes as they fight the spread of COVID-19."
"Alabama nursing home caregivers have been working hard since February to prevent the spread of COVID-19. This service will greatly supplement our infection control efforts and allow us to focus on caring for our residents," said Brandon Farmer, President & CEO of the Alabama Nursing Home Association.
The disinfection mission is part of the Alabama National Guard's continuous effort to respond to COVID-19.
State Health Officer Dr. Scott Harris said, "Nursing homes have taken the threat of this virus seriously from the start. The Alabama National Guard team will provide a valuable service which will allow more time for the nursing home staff to focus on patient care."
The National Guard will continue to provide this service for the duration of the pandemic as needed.
"This should be reassuring to all our family members that Alabama Nursing Homes are taking advantage of every service that's available to them," said Alabama Nursing Home Association spokesman John Matson. "Certainly we know our military is a very well-run organization, and we're glad that they're able to come in and share their expertise with us. And that's what they're there for. This is neighbor helping neighbor."
Copyright 2020 WBRC. All rights reserved.