Auburn's home win streak snapped by loss to Texas A&M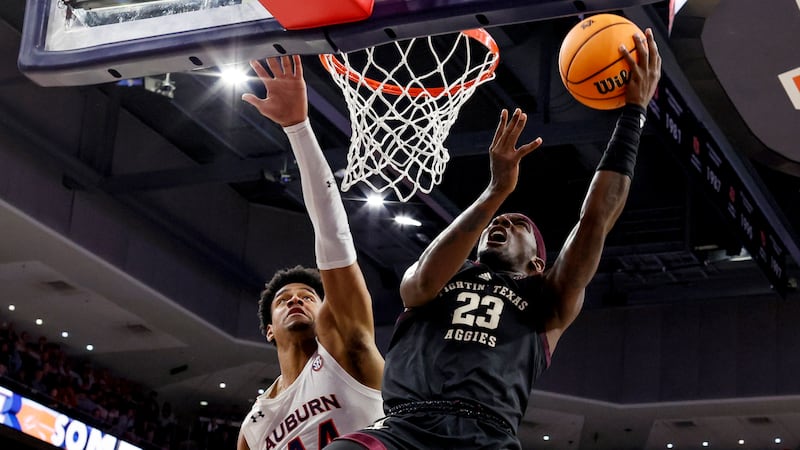 Published: Jan. 26, 2023 at 12:12 AM EST
AUBURN, Ala (WTVM) - Tyrece "Boots" Radford is Auburn's kryptonite. In the past two matchups against Auburn, Radford has totaled 49 points, 18 rebounds and 3 assists (30/9/2 today).
The Texas A&M Aggies snapped Auburn's NCAA Division I leading 28-consecutive home win streak in a 79-63 game.
"Texas A&M is a really good team," said Auburn head coach Bruce Pearl. "I think they're one of the top four teams in our league. They outplayed us tonight. A veteran, talented, physical team. They're going to have a good year."
Texas A&M rolled with the punches early with Auburn going on 10-0 run to lead 10-2 to start the game. The Aggies shot 58.6% from the field and 54.5% from three in the first half to build a 15-point lead going into halftime.
Despite Johni Broome and Wendell Green Jr. scoring 16 points each, Auburn couldn't overcome the first half deficit despite bringing it to as close at eight points.
Auburn had 10 blocks, but the Tigers only shot 19% from three.
With the 16-point loss, Auburn's six-day tenure as the NCAA leader in home win streak is over, and that honor is passed on to UCLA with 19-straight wins.
Auburn's next game is Saturday, January 18 in Morgantown, West Virginia for a matchup against the Mountaineers in the SEC/BIG12 Challenge.
Copyright 2023 WTVM. All rights reserved.