No. 25 Auburn ends two-game losing streak with win over Georgia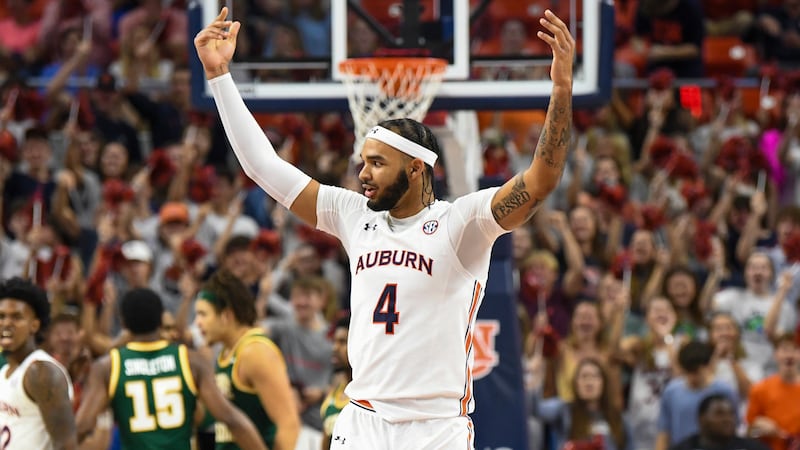 Published: Feb. 1, 2023 at 10:18 PM EST
AUBURN, Ala. (WTVM) - Johni Broome and the Tigers had something to prove against the Georgia Bulldogs in Neville Arena.
Broome dominated the paint en route to 19 points, 18 rebounds and a 94 to 73 win.
"Coming into the game we knew we had to be the more physical team," said Broome. "We knew we couldn't come out and play around against Georgia."
Allen Flanigan led both teams in scoring with 22 on 80% shooting. Mardrez McBride came off the bench and led the Bulldogs in scoring with 20. "I texted [Flanigan] last night that he was going to have a great game," Bruce Pearl said about Flanigan's game today. "I love when I'm right."
The Tigers came out hot scoring 40 points in the first half for the first time since December 2 against Colgate.
Auburn went on a 17-0 run that started with 11 minutes left in the half and lasted five minutes, pushing the Tiger lead to 19 points.
Leading the charge in the explosive half was Broome and Wendell Green Jr. with 13 and 11 points, respectively.
Auburn extended its lead in the second half and cruised to the win.
This marks Auburn's 100th win against Georgia in program history. The all-time record in the series stands at 100-97.
Next for the Tigers is a trip to Knoxville, Tennessee and a matchup against the red-hot No. 2 Volunteers. Georgia also hits the road and meets the Texas A&M Aggies on Saturday.
Copyright 2023 WTVM. All rights reserved.