March Madness top teams bring talent and, for some, baggage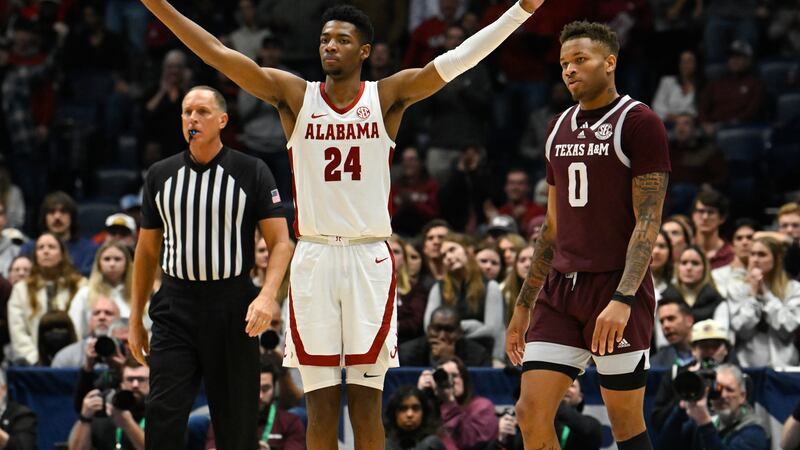 Published: Mar. 13, 2023 at 10:29 AM EDT
Kansas and Alabama are no strangers to playing for national championships.
For the Jayhawks, another high-expectations trip to March Madness is a rite of spring. For the Crimson Tide, well, this path to glory travels through some unfamiliar ground — the basketball court.
Alabama rolls in as the top overall seed in an NCAA Tournament that feels both familiar and foreign this season. Yes, there are plenty of heartwarming stories and unbelievable upsets to come when the action begins Tuesday with the first of four play-in games.
But this was also a season clouded with police blotters at Alabama and Texas, injuries at Houston and UCLA, some unsightly losses at Kansas, and enough twists and turns at the top of the field to make this as unpredictable a bracket as ever.
"I'm not sure we would've predicted this," Alabama coach Nate Oats said of the top seeding that belongs to the Crimson Tide for the first time.
Alabama's ability to set aside distractions — namely, the inevitable questions that will be directed at its star, Brandon Miller, and others about an o ngoing murder case against a former member of the team — could have as big an impact on the Crimson Tide's chances as anything.
But all these teams, especially at the top, have their issues.
It starts with Houston, the 1 seed in the Midwest, which was cruising along until Saturday, when its star guard, Marcus Sasser, fell awkwardly and left the game with a groin injury.
Sasser didn't play in his team's conference title game and Houston lost. How quickly he gets back to form could dictate whether the Cougars make the Final Four, which will take place at NRG Stadium, not far from their home arena.
Or take the Jayhawks, who looked like the top overall seed for a time. Two double-digit losses to Texas knocked them down a few notches. They are top seeded, but will play in the West, not the Midwest — one of those rare teams that might have preferred a possible trip down the road to Kansas City over a flight to Las Vegas for the Sweet 16. Not helping the situation was the recent illness of coach Bill Self, who was feeling chest tightness and checked himself into the hospital before the Big 12 Tournament. He was released Sunday and is expected to be with the Jayhawks this week.
"They mark it how they feel and we're just going to do what we need to do to get where we need to be," Kansas forward KJ Adams said.
There are issues one notch down the bracket, too.
No. 2 UCLA has been dealing with injuries all season. Most recently, guard Jaylen Clark (Achilles) and big man Adem Bona (shoulder) have gone down. Clark won't be back; Bona might. It takes a hunk out of a team that still has the core of a roster that lost to Gonzaga on a buzzer-beater from near midcourt at the Final Four two years ago.
Another 2 seed, Texas, has had months to bounce back from the firing of coach Chris Beard, whose fiancee called in a domestic dispute that led to the coach's arrest. Charges were eventually dropped. By then, Rodney Terry had taken over the team and it found its footing, though the ugliness of the episode is bound to be rehashed during basketball's biggest month.
Back among the No. 1 seeds, Purdue has a 7-foot-4 playmaker, Zach Edey, leading the way and also has a little baggage of its own. Coach Matt Painter's program has now made the tournament 14 times in his 18 years but has advanced as far as the Elite Eight only once. This is the first time one of Painter's teams has come in as a top seed, though.
The coach is as aware as anyone how a trip to the Final Four might just cover up a lot of those old blemishes.
"Obviously, I know," Painter said, "you get judged on what you do in the tournament."
___
AP March Madness coverage: https://apnews.com/hub/march-madness and bracket: https://apnews.com/hub/ncaa-mens-bracket and https://apnews.com/hub/ap-top-25-college-basketball-poll and https://twitter.com/AP_Top25
To report a correction or typo, please email digitalnews@ky3.com
Copyright 2023 KY3. All rights reserved.