ACTION DAY: Strong to Severe Storms are Expected Across the Valley Today
Published: Mar. 26, 2023 at 9:50 AM EDT
|
Updated: Mar. 26, 2023 at 9:04 PM EDT
COLUMBUS, Ga. (WTVM) - Today is an ACTION DAY for the Chattahoochee Valley, and we have already seen severe weather this morning. The Storm Prediction Center has issued a slight risk for the Chattahoochee Valley, and some of our East AL counties are in the enhanced risk area.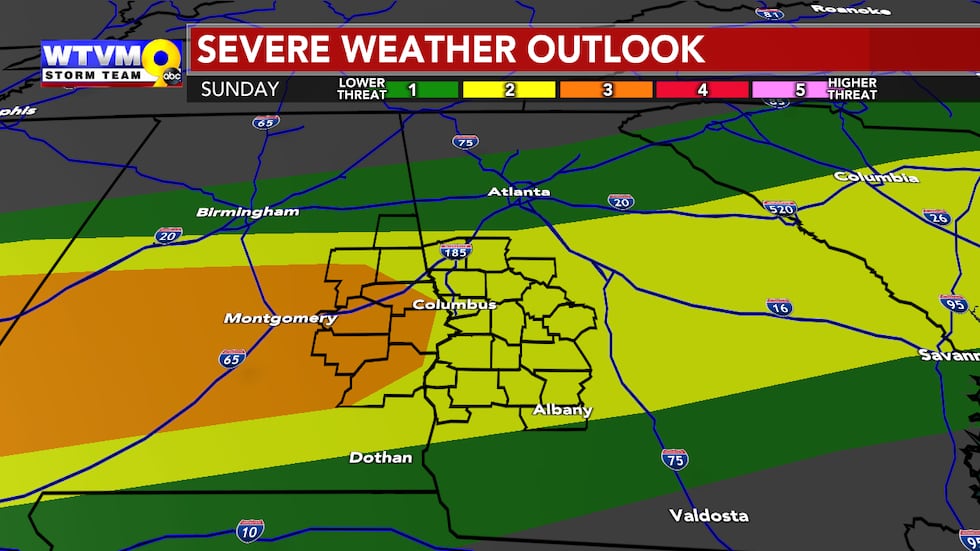 It is so important to have multiple ways to get alerts when watches and warnings are issued for your area.
[READ MORE: Drone video shows damage from tornado in West Point]
For today, we want you to be extra weather aware as the Valley will experience strong to severe storms throughout the day. The main concerns for severe threats from this system are damaging winds and damaging hail stones. Now the tornado risk is still low but not zero as that is evident of the tornado that moved through Troup County earlier this morning.
Storm Team 9 will be in the Alert Center all day to watch as these storms develop and will bring the latest updates online and on air. We are expecting to continue to see this storm system continue into the early morning hours of Monday. The good news is that we are expecting dry conditions to persist throughout Monday after the storms roll through the AM hours. Looking past this storm system, another round of rain is on track for the Valley Tuesday, but dry days are ahead to end the work week. Temperatures are expected in the low 70s on Tuesday and Wednesday, but things continue to heat up Thursday helping the 80s return by Friday.
Copyright 2023 WTVM. All rights reserved.