Auburn, Alabama gymnastics to compete in NCAA Gymnastics Regionals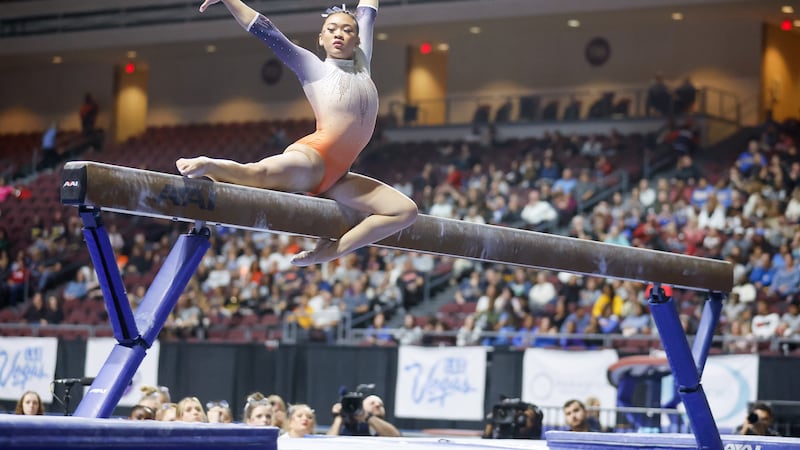 Published: Mar. 29, 2023 at 4:23 PM EDT
COLUMBUS, Ga. (WTVM) - The Alabama Crimson Tide and the Auburn Tigers will get a shot at the NCAA Gymnastics National Championship starting this weekend.
Alabama is ranked as the eighth best team in the country at this point and will travel to Norman, Okla. for their Region. The Tide will compete against No. 9 Kentucky, Illinois, and Iowa in the Second Round.
The top 2 teams in their second-round group will move on to the Regional Final. The other side to the Norman Regional holds No. 1 Oklahoma, No. 16 Ohio State, Arkansas, and the winner of first-round matchup between NC State and Ball State.
The Tide are familiar with a few teams in their region having already competed against Oklahoma, Kentucky and Arkansas this season, going 4-2 in those meetings (0-1 vs. Oklahoma; 1-1 vs. Kentucky; 3-0 vs. Arkansas).
"I think this team thrives in that high energy, intense environment where four teams are going; there's a lot happening," said head coach Ashley Johnston. "...It feels like something that we're already really good at, stepping in and knowing how to thrive in a big, intense format."
Auburn is the No. 12 team overall and holds the three seed in the Los Angeles Regional. Teams competing against the Tigers in the Regional Second Round is No. 5 Utah, Southern Utah, and Washington.
On the other side of the regional is the host school, No. 4 UCLA along with Missouri, Stanford and the winner of first round matchup, Boise State and BYU.
Auburn could go without All-Around Olympic Gold medalist Sunisa Lee in this postseason. Lee has missed the last few meets for the Tigers with a non-gymnastics related injury.
Even without Lee, Auburn has their eyes on another deep run. Last season, the Tigers made it to the Final Four, but did not finish on the podium.
"I think it's a big deal that our team has been through a difficult regional already and has made it to the Final Four," head coach Jeff Graba said. "We have to take it one day at a time, stay focused and perform. The postseason is tough, but we know what it takes to advance."
Alabama's meet will begin at 3 p.m. ET, and Auburn will start at 5 p.m. ET.
Each round, the top two teams will advance to the next stage until a National Champion is crowned on April 15 in Fort Worth, Texas.
Copyright 2023 WTVM. All rights reserved.