Freed 'Hotel Rwanda' hero Paul Rusesabagina arrives in US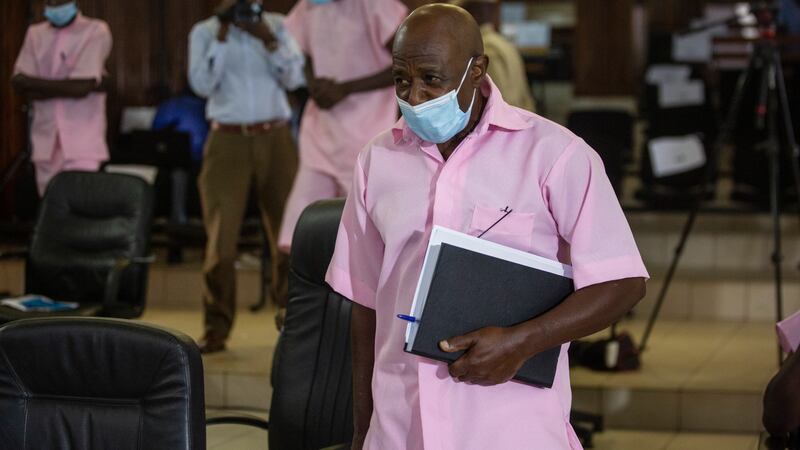 Published: Mar. 29, 2023 at 5:31 PM EDT
|
Updated: Mar. 30, 2023 at 1:07 AM EDT
HOUSTON (AP) — The man who inspired the film "Hotel Rwanda" and was freed by Rwanda last week from a terrorism sentence returned Wednesday to the United States and joined his family after being held for more than two years.
Paul Rusesabagina's arrival in San Antonio was announced by his daughter Carine Kanimba, who tweeted that "our family is finally reunited today."
White House national security adviser Jake Sullivan tweeted that "we're glad to have him back on U.S. soil."
Rusesabagina's plane first touched down in Houston and the 68-year-old would visit a military hospital in San Antonio, according to a person familiar with the matter, who spoke on condition of anonymity to discuss internal planning.
Rusesabagina, a U.S. legal resident and Belgian citizen, was credited with sheltering more than 1,000 ethnic Tutsis at the hotel he managed during Rwanda's 1994 genocide in which over 800,000 Tutsis and Hutus who tried to protect them were killed. He received the U.S. Presidential Medal of Freedom for his efforts.
Rusesabagina disappeared in 2020 during a visit to Dubai in the United Arab Emirates and appeared days later in Rwanda in handcuffs. His family alleged he was kidnapped and taken to Rwanda against his will to stand trial.
In 2021, he was sentenced to 25 years in prison after being convicted in Rwanda on eight charges including membership in a terrorist group, murder and abduction following the widely criticized trial.
Last week, Rwanda's government commuted his sentence after diplomatic intervention on his behalf by the United States. On Monday, White House National Security Council spokesman John Kirby told journalists that Rusesabagina was in Doha, Qatar, and would make his way back to the U.S.
Rusesabagina had been accused of supporting the armed wing of his opposition political platform, the Rwandan Movement for Democratic Change. The armed group claimed some responsibility for attacks in 2018 and 2019 in southern Rwanda in which nine Rwandans died.
Rusesabagina testified at trial that he helped to form the armed group to assist refugees but said he never supported violence — and sought to distance himself from its deadly attacks.
Rusesabagina has asserted that his arrest was in response to his criticism of longtime President Paul Kagame over alleged human rights abuses. Kagame's government has repeatedly denied targeting dissenting voices with arrests and extrajudicial killings.
Rusesabagina became a public critic of Kagame and left Rwanda in 1996, first living in Belgium and then the U.S.
His arrest was a source of friction with the U.S. and others at a time when Rwanda's government has also been under pressure over tensions with neighboring Congo and Britain's plan to deport asylum-seekers to the small east African nation.
Rights activists and others had been urging Rwandan authorities to free him, saying his health was failing.
In October, the ailing Rusesabagina signed a letter to Kagame that was posted on the justice ministry's website, saying that if he was granted pardon and released to live in the U.S., he would hold no personal or political ambitions and "I will leave questions regarding Rwandan politics behind me."
Last year, U.S. Secretary of State Antony Blinken met with Kagame in Rwanda and discussed the case.
Kirby, the White House National Security Council spokesman, had said Sullivan personally engaged in the case, "really doing the final heavy lifting to get Paul released and to get him on his way home."
___
Tucker reported from Washington. Associated Press reporters Jake Bleiberg in Dallas and Cara Anna in Nairobi, Kenya, contributed reporting.
___
Follow Juan A. Lozano on Twitter at https://twitter.com/juanlozano70.
Copyright 2023 The Associated Press. All rights reserved.