What to watch for at Alabama's spring game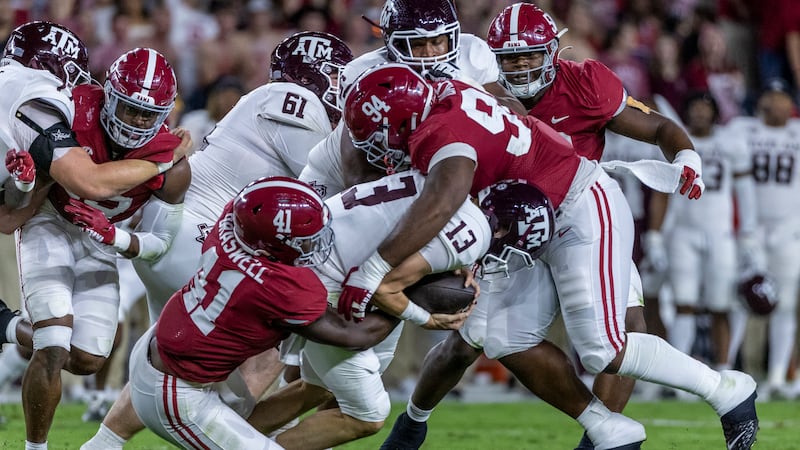 Published: Apr. 21, 2023 at 10:38 AM EDT
TUSCALOOSA, Ala. (WTVM) - When you accept the opportunity to represent the University of Alabama on the football field the work starts early, expectations are championship or bust, and you're expected to bring your 'A game' every single day. That all comes to fruition at the annual A-Day game.
The 2023 Alabama A-Day Game will be played on Saturday, April 22 at 2 p.m. CST in Bryant-Denny Stadium and will be coach Nick Saban's 16th with the program. That aside, there are more questions and talking points heading into the big spring game than usual.
Let's take a look at three things to look out for heading into the 2023 Alabama A-Day Game:
The uncertainty at QB: As we come to the conclusion of Bama spring ball, several questions surround the most important position on the field for the Tide. The quarterback position has been held down by high-level talent and leadership the last several years, including a few Heisman winners and finalists. Now, with Bryce Young opting for the NFL draft, coach Saban is faced with a tough decision. Will it be Jalen Milroe or Ty Simpson stepping in to fill those massive shoes? Both quarterbacks will have the opportunity to make their respective cases as they'll be splitting snaps at "A Game" and will both be given a fair shot. Milroe comes into the QB battle with an experience advantage over Simpson. He started a game against Texas A&M this past season after Bryce Young went down with an injury and Milroe came away with a big win. The Milroe and Simpson race will be one to watch unfold as we continue to watch both signal callers develop through September.
Keep an eye on these spring ball standouts: This time of year is also an opportunity to see some of the new guys for the first time. Guys like freshman running back Justice Haynes and freshman tackle Kadyn Proctor have only been on campus a handful of weeks and have already put coaches as well as fans on notice. Proctor, the #1 offensive tackle in the 2023 class, has been described as a "first guy off the bus" type of player. Proctor is an absolute mammoth listed at 6′7, 354 pounds, making him the largest player on the roster. Comparisons have been made to the equally as big and former Alabama lineman Evan Neal, who only managed to turn himself into a top-10 pick in last year's NFL draft. Proctor will hope to replicate Neal's success. Justice Haynes hoped to step into a weakened running back's room and create buzz for himself right away and has done just that. Head coach Nick Saban has been raving about the freshman running back throughout spring camp calling him "mature, smart and competitive" at the conclusion of this past Saturday's practice. With two seniors ahead of him, it may be a challenge getting consistent touches, but Justice Haynes is one to look out for.
The cohesiveness of the new coaching staff: Coach Saban and Alabama athletics announced new additions to the 2023 coaching staff back in early February, and Saturday will be a first chance for fans to see how things look. Kevin Steele is back as defensive coordinator, Tommy Rees will join Alabama as their new offensive coordinator and quarterbacks coach, and Austin Armstrong will serve as the new inside linebackers' coach. All three will hope to make a great first impression led by their respective units.
These are just three of several things Crimson Tide fans will have their eyes on this Saturday but the goal and standard remain the same, getting the national championship back to Tuscaloosa.
Things get rolling at 2 p.m. CT in Bryant-Denny Stadium and will include a full day of activities and experiences. All gates open at 11:30 a.m. and admission will once again be free to the public with the first 5,000 fans receiving a limited-edition A-Day poster.
Copyright 2023 WTVM. All rights reserved.