Former President Donald Trump addresses Georgia Republican Convention
Published: Jun. 10, 2023 at 12:54 PM EDT
|
Updated: Jun. 10, 2023 at 6:15 PM EDT
COLUMBUS, Ga. (WTVM) - Former president Donald Trump arrived in Columbus just before 1:30PM ET. President Trump was the featured speaker for the GOP convention that was hosted in Columbus.
He spoke for one hour and twenty minutes before leaving the stage and making a stop at a Columbus Waffle House.
PRESIDENT TRUMP'S ADDRESS IN COLUMBUS
[4:17PM] Address ends.
[4:07PM] "I will establish a special presidential committee to investigate what is causing the decases long increase in childhood diseases... and other cronitc health issues."
[4:06PM] "I will not give a single penny to any school that has a vaccine mandate or a mask mandate from kindergarten to college."
[4:05PM] "I will sign a law prohibiting child sexual mutilation in all 50 states."
[4:05PM] "I will keep men out of women's sports."
[4:05PM] "I will immediately sign an executive order to pull funding for any school pushing critical race theory."
[3:56PM] "I will sign a day one executive order ending automatic citizenship for children of illegal aliens."
[3:55PM] "I will ask every state and federal agencies to identify every known or suspected gang member in America. Every one of them here illegally will be picked up and sent back to the country of which they came."
[3:54PM] "I will cancel every open boarder policy of the Biden Administration. You can come into our country, but you have to come in legally."
[3:53PM] "I will direct a completely overhauled DOJ to investigate every DA in America for their racist and illegal enforcement of the law."
[3:53PM] "I'm the only candidate who can make this promise: I will prevent World War 3. And without me it will happen. This will not be a conventional war... this will be nuclear war... I will prevent it."
[3:52PM] "Shortly after I win the Presidency, I will have the horrible war between Ukraine and Russia done quickly."
[3:39PM] "I stand before you today as the only candidate who can go before the corrupt government... we don't fold our tent and go home."
[3:25PM] "I had every right to complain the election in Georgia, in my opinion, was rigged. That the election in Georgia was a disaster."
[3:10PM] "As President, all of my records fall under the Presidential Records Act... which is really the ruling act, which this case falls under 100%."
[3:07PM] "As far as the joke of an indictment... it's a horrible thing for this country. The only good thing is it has driven my poll numbers way up."
[2:55PM] Former President Trump begins address at Columbus Trade Center.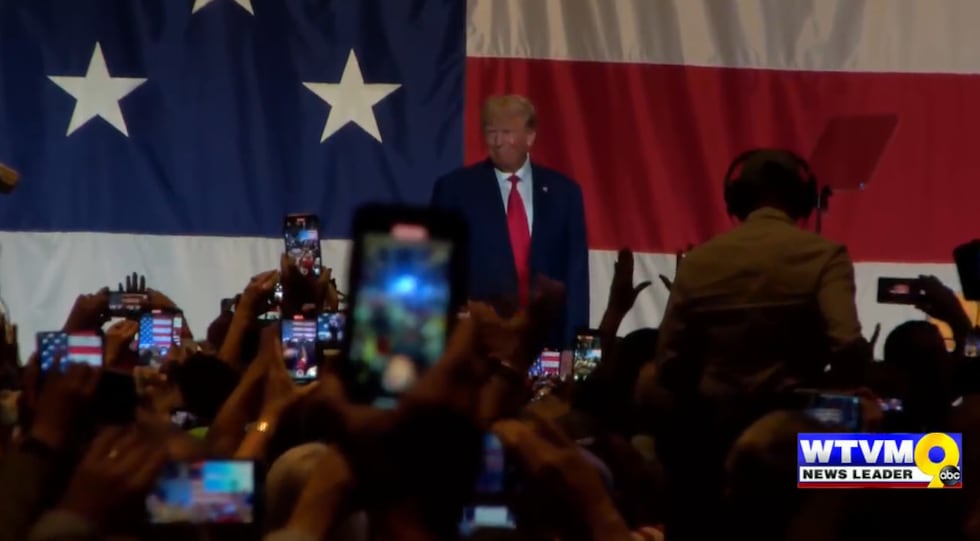 PRESIDENT TRUMP ARRIVES IN COLUMBUS
President Trump spent 10 minutes with fans who had crowded at the airport prior to departing for the Columbus Trade Center.
This is the first time Trump will speak at a convention since his indictment.
STATE CONVENTION DAY 1
President Trump is one of several politicians and political figures to speak at the two-day convention. Former Arizona gubernatorial candidate Kari Lake spoke to state Republicans on Saturday night at the convention's "Victory Dinner".
News Leader has crews on location at the Trade Center, and will be livestreaming the former president's speech on Facebook and our website.
Copyright 2023 WTVM. All rights reserved.