Sunny Skies and a Warm Afternoon for Sunday
Arianna's Forecast
Published: Sep. 23, 2023 at 6:05 PM EDT
COLUMBUS, Ga. (WTVM) - Happy First Day of Fall! Saturday officially kicked off fall with the autumn equinox occurring and morning temperatures giving us a taste of fall with the low temperature at the Columbus airport of 60 degrees. Sunday morning temperatures are expected to be in the low-60s, however some locations could reach the upper-50s. Temperatures Sunday afternoon are forecast to reach the upper-80s to low-90s; and even though there will be noticeably less humidity the afternoon will still be warm. Less humid conditions are expected to remain across the Valley headed into the beginning of the work week before more humid conditions return by mid-week.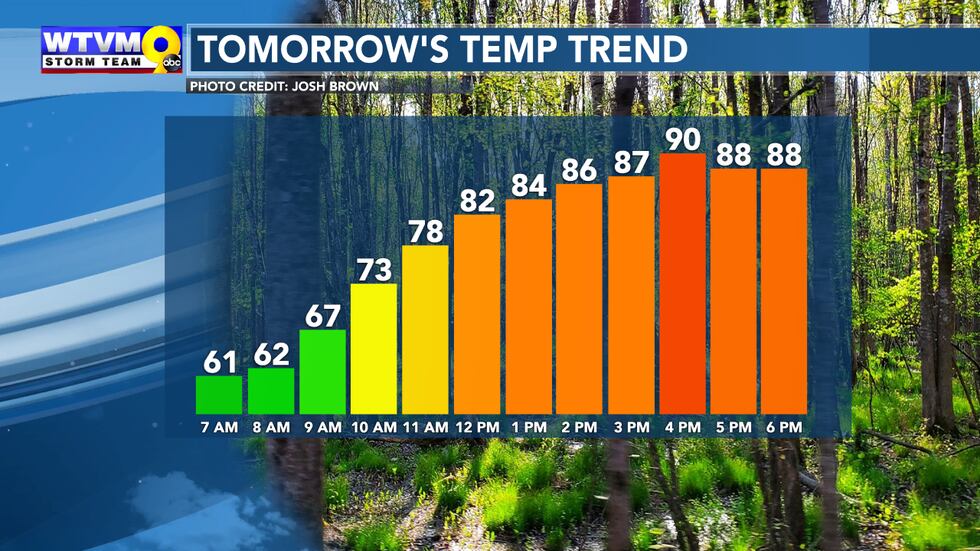 Temperatures will be in the upper-80s to low-90s Monday and Tuesday; however better rain chances and increased cloud cover will help to lower temperatures Wednesday into the mid-80s. If you have any outdoor plans Sunday or Monday, sunny to mostly sunny conditions are expected across the Valley; however rain chances begin to increase heading into mid-week.
Copyright 2023 WTVM. All rights reserved.