Flamingos visit Wisconsin beach in a first for the northern state
Published: Sep. 24, 2023 at 6:10 AM EDT
PORT WASHINGTON, Wis. (AP) - Five flamingos that showed up in Wisconsin to wade along a Lake Michigan beach attracted a big crowd of onlookers eager to see the unusual visitors venturing far from their usual tropical setting.
The American flamingos spotted Friday in Port Washington, about 25 miles (40 kilometers) north of Milwaukee, marked the first sighting of the species in Wisconsin state history, said Mark Korducki, a member of the Wisconsin Society for Ornithology, the Milwaukee Journal Sentinel reported.
The birds stood quietly 25 feet (7.6 meters) off Lake Michigan's western shoreline as waves lapped against their thin legs. Three were adults, identifiable by their pink plumage, and two were juveniles clad in gray.
Jim Edelhuber of Waukesha was among a crowd of about 75 bird enthusiasts drawn to the city's South Beach after word spread on social media about the flamingos' appearance there.
"This is huge. This is unbelievable," said Edelhuber, an avid bird watcher and photographer.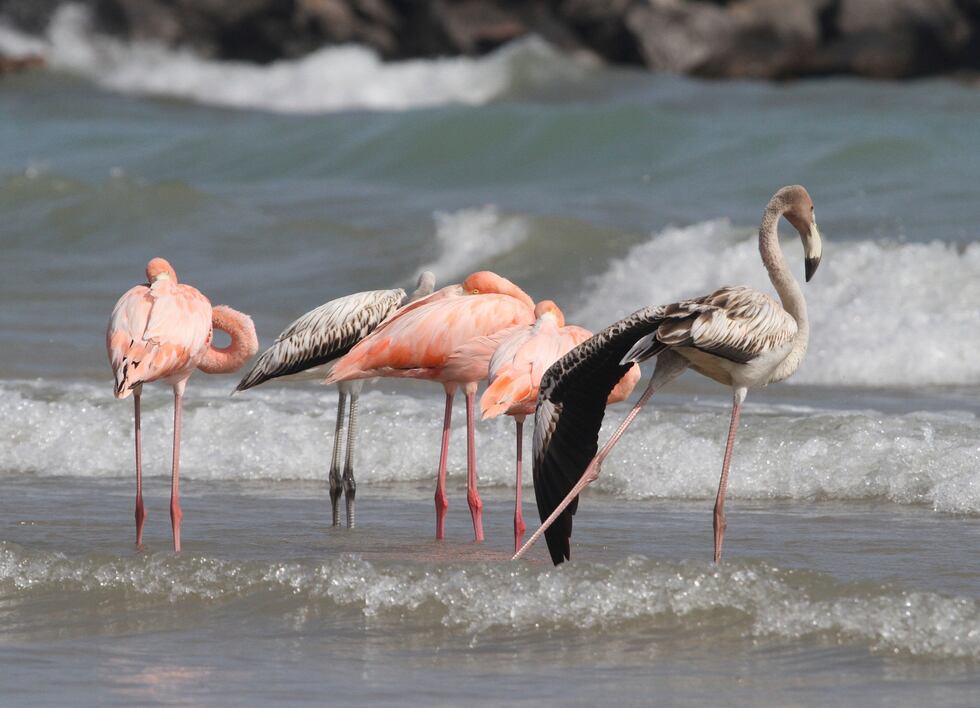 The sighting was unexpected but not a total shock because of recent reports of flamingos in Indiana, Kentucky, Ohio and Pennsylvania, said Ryan Brady, conservation biologist with the Wisconsin Department of Natural Resources.
Wildlife biologists hypothesized that the flamingos were pushed north in late August by the strong winds of Hurricane Idalia, the Journal Sentinel reported.
The typical range of the American flamingo is Florida and other Gulf Coast states as well as the Caribbean and northern South America.
Debbie Gasper of Port Washington made the short trip to the lakefront with her husband, Mark. She said that before Friday the only flamingos she has seen have been on the couple's trips to Aruba.
Gasper said she was going to send photos of the birds to relatives in Georgia who "aren't going to believe it."
Copyright 2023 The Associated Press. All rights reserved.