Tuesday Sun and Warm Temperatures
Arianna's Forecast
Published: Oct. 2, 2023 at 5:07 PM EDT
COLUMBUS, Ga. (WTVM) - High pressure will continue to be the dominant story through Thursday. Rain coverage is expected to remain non-existent through Thursday and temperatures will continue to be on the warmer side, with afternoon high temperatures in the mid- to upper-80s. A transition is coming with a cold front moving through the Valley Friday or Saturday leaving behind below average temperatures. As for the rain coverage with the associated cold front, it is expected to be minimal; rain coverage Friday is between 10-30%.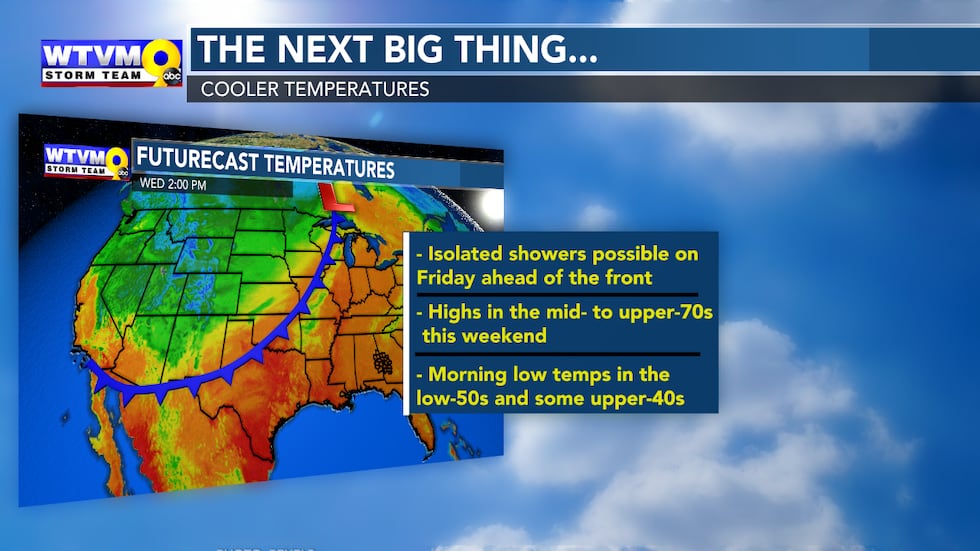 Heading into this weekend and next week rain coverage will once again be minimal, which is not good for portions of our central and southern counties who are ready facing some drought-like conditions. This weekend afternoon high temperatures are forecast to be in the mid- to upper-70s.; with morning low temperatures in the lower-50s.
Copyright 2023 WTVM. All rights reserved.