Texas counties trying to prevent people from using roads to get an abortion grows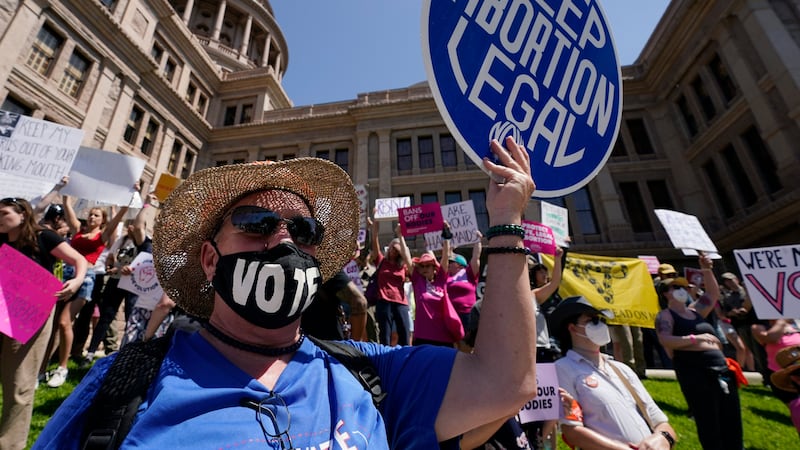 Published: Oct. 25, 2023 at 6:40 AM EDT
LUBBOCK, Texas (AP) — A Texas county near New Mexico — where abortion is legal — has banned helping people traveling to get an abortion in one of the newest ways conservatives are trying to restrict abortion access since the fall of Roe v. Wade.
Lubbock County is the largest of four Texas counties that have now adopted a version of the measure, which would be enforced through lawsuits filed by private citizens against people who help women obtain abortions. It is the same legal mechanism Texas used to enact a strict abortion law in 2021 before the U.S. Supreme Court allowed the state last year to ban nearly all abortions entirely.
Commissioners in the west Texas county adopted the measure 3-0 at a meeting Monday, rejecting some requests to postpone the vote.
The ordinance "has many legal problems," said Lubbock County Judge Curtis Parrish, the county's top elected official. "This ordinance, however, does not have a problem with its intent or the intent of those who are passionate about this."
The measures expand on city ordinances rural Texas cities began passing in 2019 to ban abortion within their boundaries, even if the cities did not have a clinic performing abortions. Critics have attacked the campaign as an effort to intimidate women from seeking abortions in places where it remains legal.
Mark Lee Dickson, a Texas pastor who has led the efforts, praised the vote.
"Guys, I long for the day (when), coast to coast, abortion is considered a great moral, social and political wrong and is outlawed in every single state," Dickson told commissioners.
No violations of the travel prohibition have been reported in the counties with similar measures already on the books. The measures would not punish women who are seeking the abortion but would present legal risks to people who help transport them to get the procedure.
Legal experts have questioned whether the ordinances could be enforced.
"We haven't had this kind of issue tested, so it's really kind of a case of first impression," said Seema Mohapatra, a health law expert and law professor at Southern Methodist University.
The Lubbock County Sheriff's Office declined to comment on the ban or its implementation.
Lubbock County has about 317,000 residents and far outnumbers the population of the three other Texas counties — Mitchell, Goliad and Cochran — that have approved the ordinance in recent months, with each county's population counting fewer than 10,000 residents. Highways through Lubbock County run to New Mexico, which has some of the most permissive abortion laws in the U.S.
The ban does not apply to cities within Lubbock County, including the city of Lubbock, which has about 264,000 of the county's residents. Lubbock voters in 2021 adopted a similar measure.
"Texans already live under some of the most restrictive and dangerous abortion bans in the country, yet anti-abortion extremists continue to push additional unnecessary, confusing and fear-inducing barriers to essential healthcare," said Autumn Keiser, spokesperson for Planned Parenthood of Greater Texas.
Texas is one of 13 states that bans abortion at all stages of pregnancy. In August, a Texas judge ruled that the state's ban was too restrictive for women with pregnancy complications. But that ruling was swiftly put on hold following an appeal by the state.
The Texas law was passed prior to the U.S. Supreme Court's 2022 ruling that overturned the landmark Roe v. Wade decision that allowed abortions nationwide.
___
An earlier version of this story incorrectly reported that two New Mexico counties had also passed similar measures.
Copyright 2023 The Associated Press. All rights reserved.