Auburn HC Hugh Freeze surprises player with scholarship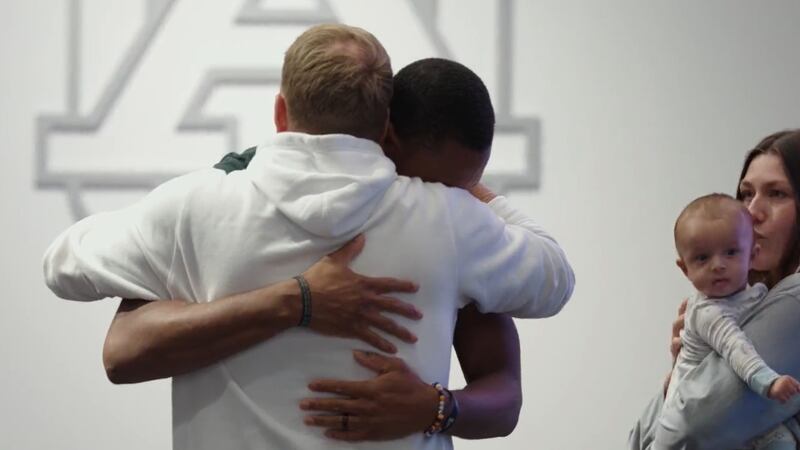 Published: Nov. 3, 2023 at 7:36 PM EDT
|
Updated: Nov. 3, 2023 at 9:39 PM EDT
AUBURN, Ala. (WBRC) - One of the best things to see is the hard work of an individual being rewarded, and that is exactly what happened on the campus of Auburn University this week. Auburn head football coach, Hugh Freeze, surprised WR Kassidy Woods with a scholarship during a team meeting this week, one that means a lot to more than just Kassidy who took out a private loan just to play football for Auburn.
During the a meeting, Coach Freeze asked one of his players to go to a nearby door and open it for a surprise guest. Kylie and Serenity, the wife and daughter of Kassidy, walked through the door and into the middle of the meeting room. It was at that moment when Coach Freeze began to make his surprise announcement.
"I want to tell you, Kassidy, you have a wonderful family," stated Freeze when speaking to Kassidy and the team. "He (Kassidy) took out a dadgum private loan just so he could be part of your team, and today, I want to clear that debt for him and put him on scholarship!", announced Freeze as the entire Auburn team erupted in cheers for Kassidy Woods. "I am so happy for y'all. You have earned it. You come to work every single day with a smile on your face, you stay after practice, and you serve this team well. That is what it's about. It's about serving each other. Congratulations to you man."
After the speech from Coach Freeze, Kassidy held his daughter Serenity and turned to his teammates, thanking them for their support and friendship.
"I really want to say thank y'all man. God's grace and mercy have really been over my life. Y'all have really accepted my family and it's just cool to have this experience with y'all and y'all just seeing Serenity grow up. I just want to say I love y'all and I appreciate y'all. Thank you!", said Woods.
You can watch the video in its entirety below.
Get news alerts in the Apple App Store and Google Play Store or subscribe to our email newsletter here.
Copyright 2023 WBRC. All rights reserved.