Georgia health officials investigating possible child lead poisoning cases after applesauce recall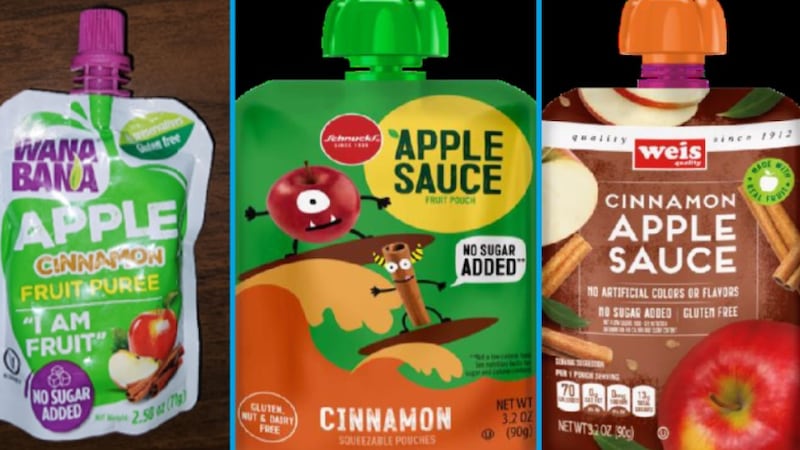 Published: Nov. 15, 2023 at 3:29 PM EST
ATLANTA, Ga. (Atlanta News First) - The Georgia Department of Public Health (DPH) is warning parents to check their pantries after three widely sold applesauce brands were recalled due to high lead content.
Nationally, 22 children between the ages of 1 and 3 have suffered high blood lead levels after eating the recalled products, the department said. No cases have been confirmed in Georgia yet, although the state is looking into "several" possible instances, it said.
The recalled applesauce products include:
WanaBana brand apple cinnamon fruit purée pouches (sold nationally)

Schnucks brand cinnamon applesauce pouches (sold in the Midwest)

Weis brand cinnamon applesauce pouches (sold in the Mid-Atlantic)
The first product was originally recalled in late October, while the second two were recalled last Thursday. The DPH said parents should throw the products away or return them for a full refund.
Confirmed cases have included symptoms like headaches, nausea, vomiting, diarrhea, change in activity level and anemia, according to the DPH. It recommends parents should contact a healthcare provider and get a blood test for lead if they suspect their child may have eaten one of the pouches.
Even small amounts of lead are dangerous, possibly leading to brain and nervous system damage, the DPH said.
You can learn more about the recall here and more about lead poisoning here.
Copyright 2023 WANF. All rights reserved.