Finally some sun in the forecast
Tyler's forecast
Published: Nov. 16, 2023 at 7:31 AM EST
COLUMBUS, Ga. (WTVM) - That pesky area of low pressure in the Gulf is moving farther southeast and starting to get out of our hair. The drier trend continues through the weekend.
Cloudy with a chance of spotty showers and sprinkles through noon on this Thursday. Clouds will eventually give way to partial clearing during the afternoon, perhaps sooner to the northwest of Columbus. Breezy but not as cool as yesterday afternoon. Highs in the upper 60s.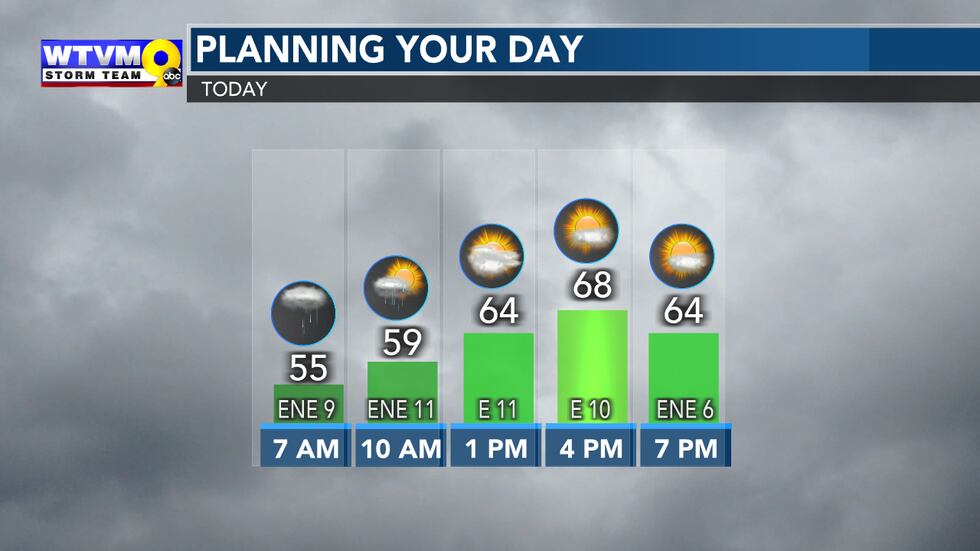 Some breaks in the clouds continue tonight. Patchy fog possible toward morning. Lows in the low to mid 50s early Friday.
After a partly cloudy start Friday, clouds increase yet again ahead of a cold front. This won't pack much moisture with it, but there is a slight chance of rain through the nighttime hours. Highs between 72 and 74 degrees.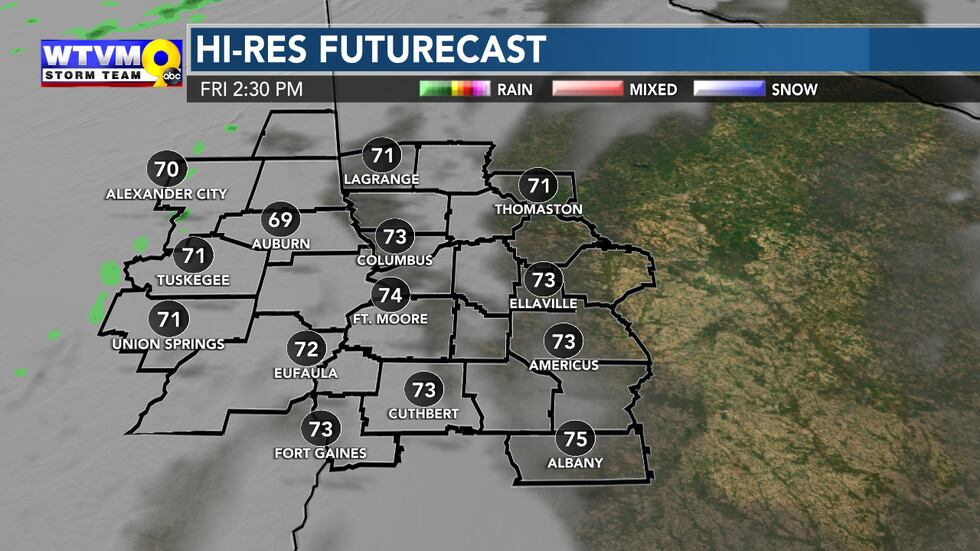 Increasing sun as we head into the weekend. It should turn mostly sunny by Saturday afternoon. Highs should climb into the low 70s. A little chilly Sunday morning with lows near 40 degrees, some upper 30s are possible in the cooler spots. Lots of sun expected all day Sunday with highs in the upper 60s and low 70s.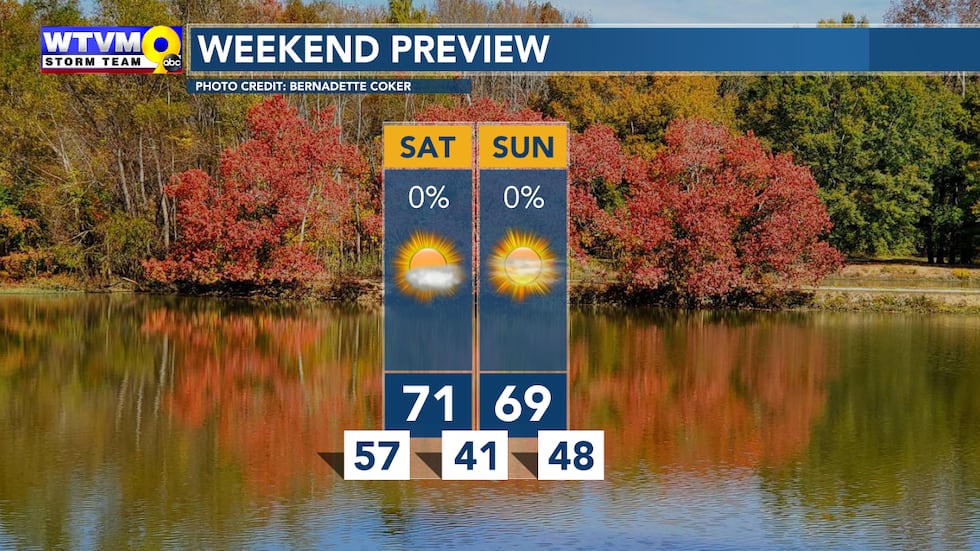 We'll be watching a system expected to swing through early next week. Monday and Tuesday will bring a chance of scattered showers and even some storms; strong to severe storms are possible. It is still too early for details. Highs in the mid to upper 60s.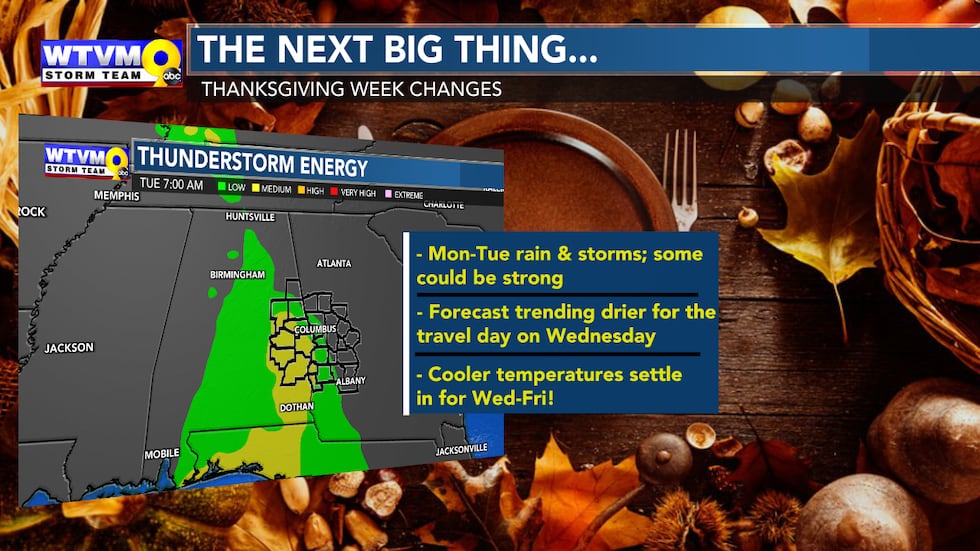 Dry weather should return in time for the big travel day Wednesday and last through at least Thanksgiving and even Black Friday. It will be chilly though by then.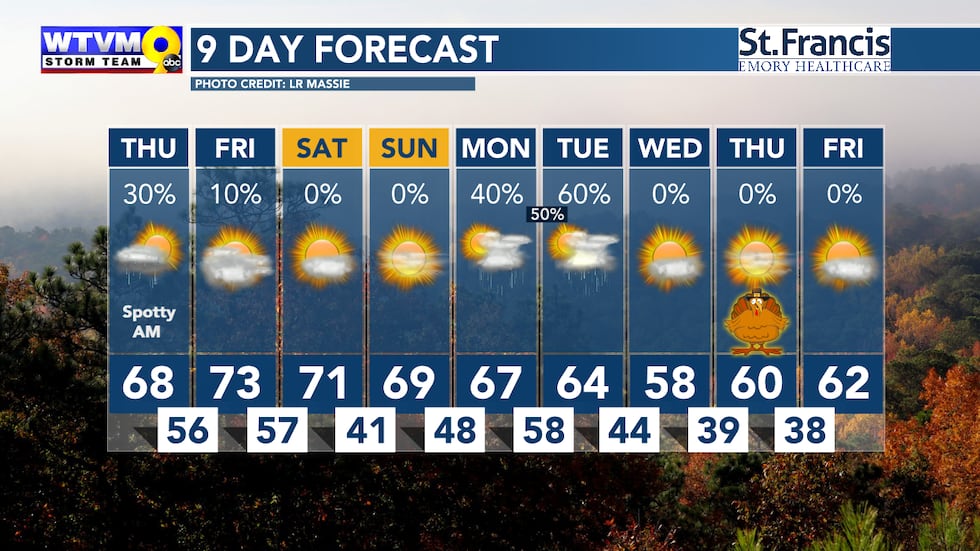 Copyright 2023 WTVM. All rights reserved.