Few Showers Friday; Beautiful Weekend on Tap
Derek's Forecast!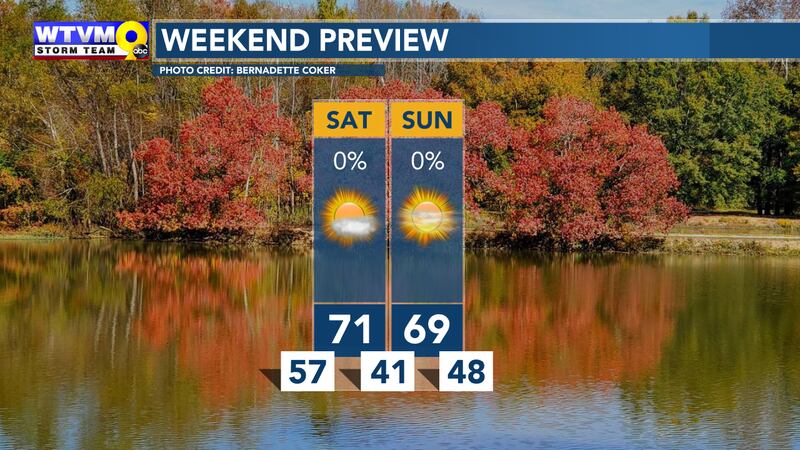 Published: Nov. 16, 2023 at 11:31 PM EST
COLUMBUS, Ga. (WTVM) - Heading into Friday, a few showers are possible during the afternoon and evening, and even into the night and overnight. The overall coverage won't be very high, and if it did rain, it wouldn't rain for very long. I'd keep the umbrella with me if I were out and about, but know that some folks may not need it. Temperatures will still be in the 70s for highs, but as we get into the weekend we will see *slightly* cooler highs with upper 60s and lower 70s for Saturday and Sunday. Both weekend days will be dry with plenty of sunshine. Going into early next week, we anticipate a storm system to impact the area Monday and Tuesday - with Tuesday featuring the highest coverage of showers and storms. Some could be on the strong side, especially off to our west, but I don't think we'll have major problems in the Chattahoochee Valley when it comes to severe weather. The forecast will dry out for Wednesday - the big travel day - and Thanksgiving Day on Thursday. We will also see cooler temperatures settle in by the middle and end of next week - highs in the 50s and lows in the 30s. We'll keep an eye on next Friday and next weekend with at least some rain potential in the forecast.
Copyright 2023 WTVM. All rights reserved.