A Sunny and Pleasant Weekend in the Valley; Storms Return Early Next Week
Meteorologist McCord's Forecast
Published: Nov. 18, 2023 at 5:23 AM EST
COLUMBUS, Ga. (WTVM) - The weather this weekend looks absolutely perfect for any plans you may have that take you out and about as both days are going to be sunshine-filled with pleasant temperatures! Temperatures this morning are in the upper 50s and will warm up to the low to mid-70s by the afternoon. A weak cold front does move through the area this afternoon but will only bring along cooler conditions for our Sunday. Sunday morning will be on the chilly side with temps in the low to mid-40s, but sunshine will warm the Valley back to the upper 60s to low 70s by the early evening hours. Both days will feature a full supply of sunshine and absolutely dry weather.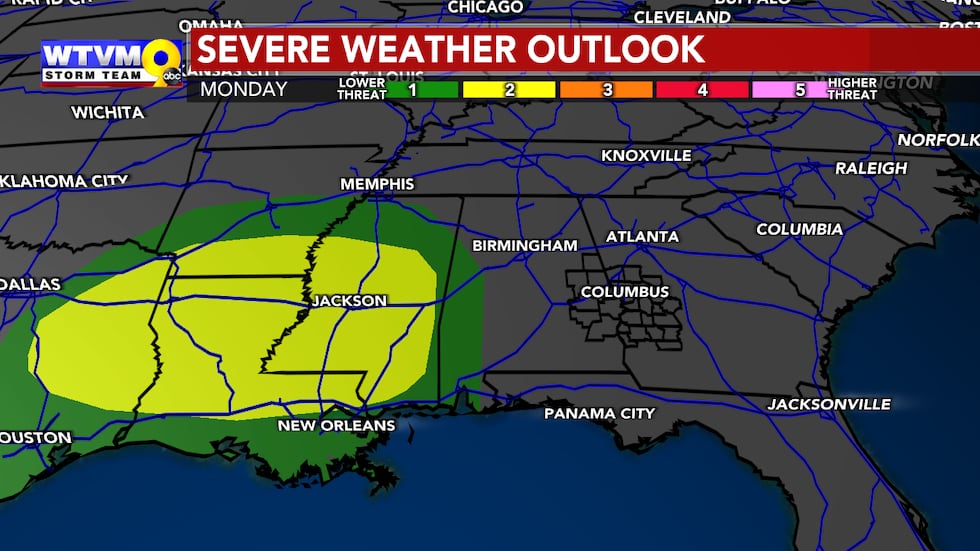 Many people will be hitting the roads in the coming days with Thanksgiving less than a week away, we are expecting a stormy start to Turkey week. A storm system approaches early next week, and the Valley will stay pretty mild for Monday. At this point, rain chances really start to rise Monday night and especially Tuesday. There could even be some storms, but the best chance of severe weather is to our west as of now. We'll be watching carefully and bringing the latest updates as this storm system develops. Drying out for the big travel day on Wednesday as rain and storms shift to the east. It will be cooling off behind the front leaving us with a pretty chilly Thanksgiving with lows in the 30s and highs likely just below 60 degrees. Rain may return Thanksgiving weekend.
Copyright 2023 WTVM. All rights reserved.