Former First Lady Rosalynn Carter dies at 96
Alongside the nation's 39th president, Rosalynn Carter forged her own path and left a legacy of devotion to mental health and human rights around the world.
Published: Nov. 19, 2023 at 3:16 PM EST
|
Updated: Nov. 20, 2023 at 3:42 PM EST
ATLANTA, Ga. (Atlanta News First) - Former First Lady Rosalynn Carter — known for her dedication and devotion not only to her husband but also to the cause of mental health and human rights around the world — has died.
The Carter Center confirmed her death Sunday afternoon. She was 96. The center said she died at her home in Plains, where she and Jimmy Carter, the nation's 39th president, have lived for decades.
Atlanta News First sent a crew to Plains on Sunday evening. Rosalynn Carter grew up in Plains and credited the town and education leaders for helping her think big.
She'd go on to be a pioneer for women's rights and expanding access to mental healthcare.
According to The Carter Center, Rosalynn Carter died at 2:10 p.m. on Sunday.
The public will be able to pay their respects starting on Monday, Nov. 27, where she will lie in repose at the Jimmy Carter Presidential Library and Museum from 6-10 p.m. On Tuesday, Nov. 28, a tribute service will be held at the Glenn Memorial Church at Emory University with invited guests. On Wednesday, Nov. 29, a private funeral service will be held at Maranatha Baptist Church in Plains. The casket will be transferred to a hearse and head to the Carter family home for a private interment.
Visit the center's tribute site here.
In late May, the Carter Center announced Mrs. Carter was experiencing dementia. This announcement came months after the center announced Jimmy Carter was entering hospice care.
On Nov. 17, the Carter Center announced the former first lady had also entered hospice care.
On Oct. 17, 2019, having married 26,765 days, Jimmy and Rosalynn Carter became the longest-married presidential couple in history (George H.W. Bush and Barbara Bush previously held the record).
"Rosalynn was my equal partner in everything I ever accomplished," President Carter said in a statement issued by The Carter Center. "She gave me wise guidance and encouragement when I needed it. As long as Rosalynn was in the world, I always knew somebody loved and supported me."
She is survived by her children — Jack, Chip, Jeff, and Amy — and 11 grandchildren and 14 great-grandchildren. A grandson died in 2015.
Rosalynn Carter married Jimmy Carter in 1946, and they had a partnership unlike any other known at the time for a president and first lady.

"She gave me wise guidance and encouragement," Jimmy Carter said in a statement Sunday after her death. pic.twitter.com/wqlieAiT70

— CBS News (@CBSNews) November 19, 2023
"Besides being a loving mother and extraordinary First Lady, my mother was a great humanitarian in her own right," said Chip Carter. "Her life of service and compassion was an example for all Americans. She will be sorely missed not only by our family but by the many people who have better mental health care and access to resources for caregiving today."
"Like so many people around the world, we are heartbroken by the passing of former First Lady, lifelong humanitarian, and our beloved founder, Rosalynn Carter," said Dr. Jennifer Olsen, CEO of The Rosalynn Carter Institute For Caregivers. "Mrs. Carter spent her life fighting for mental health parity and lifting up the voices of family caregivers. Mrs. Carter founded RCI 36 years ago and since that time, she has remained deeply connected to this organization and our work. Her voice and vision are at the heart of everything we do, and she will always be our north star.
"Mrs. Carter often reminded us to 'do what you can to show you care about other people, and you will make our world a better place.' There is no doubt that this world is a far better place because of Mrs. Carter's caring heart."
According to her White House biography, Rosalynn Smith was born in Plains, Georgia, on August 18, 1927, the first of four children in the family of Allethea Murray Smith and Wilburn Edgar Smith, who was a mechanic. When she was 13, her father died and her mother became a dressmaker to help support the family.
Rosalynn Smith completed high school and enrolled in Georgia Southwestern College at Americus. In 1945, after her freshman year, she first dated Jimmy Carter, who was home from the U.S. Naval Academy at Annapolis. Their romance progressed, and on July 7, 1946, they were married.
The young couple went to Norfolk, Virginia, Ensign Carter's first duty station after graduation. The Navy kept them on the move. Their sons were born in different places: John William in Virginia, James Earl III in Hawaii, and Donnel Jeffrey in Connecticut. The Carters' only daughter, Amy Lynn, was born in Georgia in 1967.
The Carters are the longest married presidential couple in U.S. history.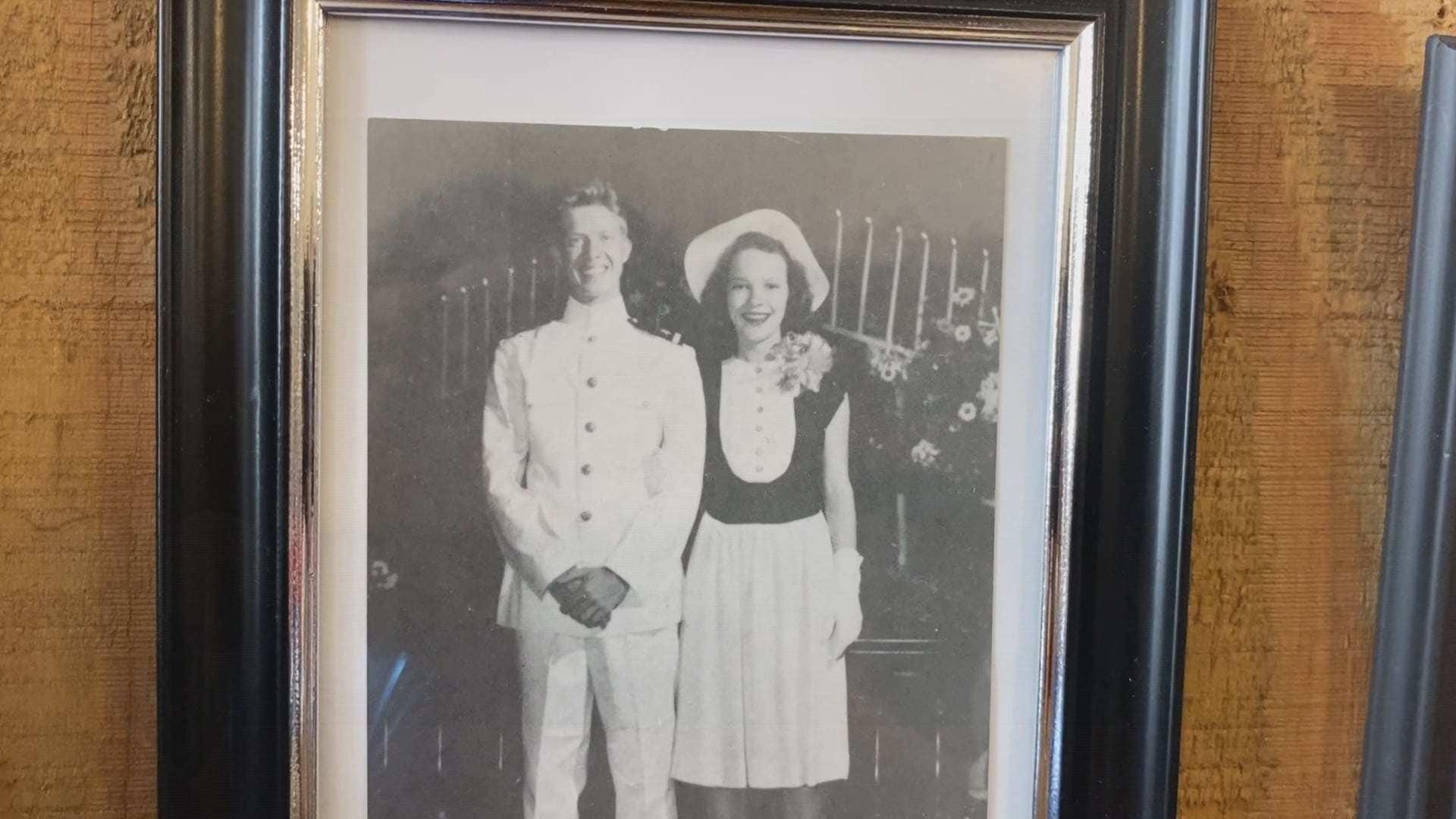 When his father died in 1953, then-Lt. Carter left the service, and the Carters returned to Plains to run the family business. Managing the accounts of the peanut, fertilizer, and seed enterprise, Rosalynn Carter soon found herself working full-time.
Jimmy Carter entered politics in 1962, winning a seat in the Georgia Senate. Rosalynn Carter was an important member of his campaign team and helped develop support for her husband's successful bid for the governorship of Georgia in 1970.
As first lady, Mrs. Carter managed routine duties and special projects in her office in the East Wing. She attended Cabinet meetings and major briefings, frequently represented her husband at ceremonial occasions, and served as the president's personal emissary to Latin American countries.
As First Lady, Rosalynn Carter focused national attention on the performing arts. She invited to the White House leading classical artists from around the world, as well as traditional American artists. She also took a strong interest in programs to aid mental health, the community, and the elderly. From 1977 to 1978, she served as the Honorary Chairperson of the President's Commission on Mental Health.
After returning home, Mrs. Carter wrote her autobiography, "First Lady From Plains," published in 1984. Through the Carter Center, she led a program to diminish stigma against mental illness and to promote greater access to mental health care. She also was a partner with the ex-president in projects to resolve conflict, promote human rights, improve global health, and build democracy in more than 60 countries.
In 1985, she began the annual Rosalynn Carter Symposium on Mental Health Policy.
In 1991, Rosalynn Carter co-launched Every Child By Two, a nationwide campaign to promote childhood immunizations, with Betty Bumpers, wife of then-Sen. Dale Bumpers of Arkansas. From 1991 to 1999, she served on the policy advisory board of The Atlanta Project, a Carter Center program that addresses the social ills associated with poverty and quality of life around Atlanta.
Mrs. Carter was awarded the Presidential Medal of Freedom in 1999, and two years later, was inducted into the National Women's Hall of Fame.
The U.S. House of Representatives passed a resolution on Dec. 10, 2020, recognizing Mrs. Carter's 50 years of mental health advocacy.
Rosalynn Carter served as a distinguished centennial lecturer at Agnes Scott College in Decatur, Georgia, from 1988-1992 and as a distinguished fellow at the Emory University Department of Women's Studies in Atlanta, from 1990-2018.
Atlanta News First and Atlanta News First+ provide you with the latest news, headlines and insights as we look at the life and accomplishments of Georgia's favorite couple. Download our Atlanta News First app for the latest political news and information.
Copyright 2023 WANF. All rights reserved.