Rosalynn Carter to lie in repose, will be laid to rest next week
Here is the full schedule of events surrounding the funeral of Rosalynn Carter, former U.S. First Lady.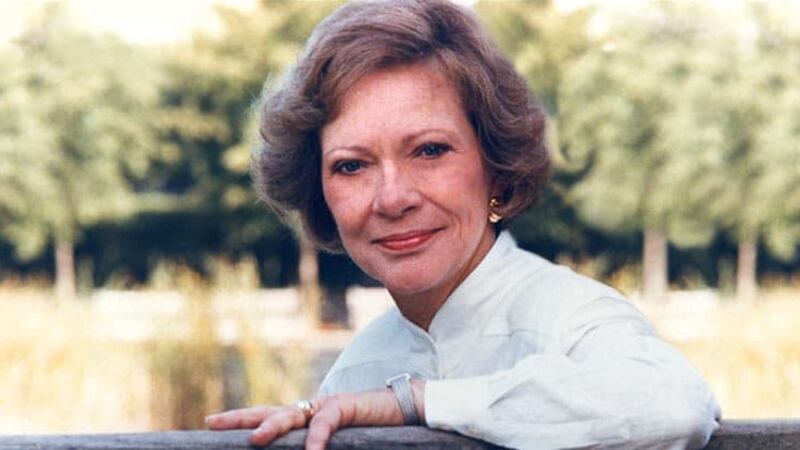 Published: Nov. 19, 2023 at 11:16 PM EST
|
Updated: Nov. 20, 2023 at 4:13 PM EST
ATLANTA, Ga. (Atlanta News First) - Rosalynn Carter, the former first lady and lifelong companion of former President Jimmy Carter, passed away Sunday, Nov. 19, 2023, at age 96.
Following the announcement of her death, plans have been made to honor and lay Mrs. Carter to rest.
Will there be any ceremonies before Rosalynn Carter's funeral?
Yes. There will be a wreath-laying at Georgia Southwestern State University, on Monday, Nov. 27.
Here is the schedule for the wreath-laying:
The Carter family motorcade arrives at Phoebe Sumter Medical Center in Americus at 10:25 a.m. Mrs. Carter's remains will be transferred to a hearse, accompanied by past and present members of her U.S. Secret Service detail.

The motorcade will depart the medical center on a public route to Georgia Southwestern State University at 10:40 a.m. The public is invited to pay respects along the motorcade route. The route will be shared at a later date.

The motorcade arrives at the Rosalynn Carter Health and Human Sciences Complex at Georgia Southwestern State University, where wreaths will be laid, at 11 a.m.
Where will Rosalynn Carter lie in repose?
Following the wreath ceremony, Mrs. Carter will lie in repose at the Jimmy Carter Presidential Library and Museum on Monday, Nov. 27.
There will be an arrival ceremony at the presidential library at 3:15 p.m. and a repose service at 3:30 p.m.
The Carter family is inviting members of the public to pay their respects from 6-10 p.m. Parking and a shuttle will be available at St. Luke's Episcopal Church, 435 Peachtree St. NE, Atlanta.
On Tuesday, Nov. 28, there will be a departure ceremony at the Carter Presidential Center from 11:30-11:45 a.m. There will be a tribute service at Glenn Memorial Church at Emory University for invited guests from 1-2:30 p.m.
When will Rosalynn Carter's funeral be held?
Mrs. Carter's funeral will be on Wednesday, Nov. 29.
The funeral procession arrives at Maranatha Baptist Church in Plains at 10:55 a.m. A service for family and invited friends will take place at the church at 11 a.m.
At 12:30 p.m., the casket will be transferred to a hearse for private interment at the Carter family residence.
The public is welcome to line the family motorcade route as it proceeds from the church, down Bond Street, and along Highway 280 in downtown Plains. There will be designated viewing areas.
For more information, click here.
FULL COVERAGE: ELEANOR ROSALYNN SMITH CARTER
Atlanta News First and Atlanta News First+ provide you with the latest news, headlines and insights as we look at the life and accomplishments of Georgia's favorite couple. Download our Atlanta News First app for the latest political news and information.
Copyright 2023 WANF. All rights reserved.