Rainy and breezy Tuesday; Low severe weather risk
Tyler's forecast
Published: Nov. 21, 2023 at 7:41 AM EST
COLUMBUS, Ga. (WTVM) - While we're on Alert for the very distinct possibility of a storm briefly turning strong to severe, most of the day will just be filled with off and on rain and wind.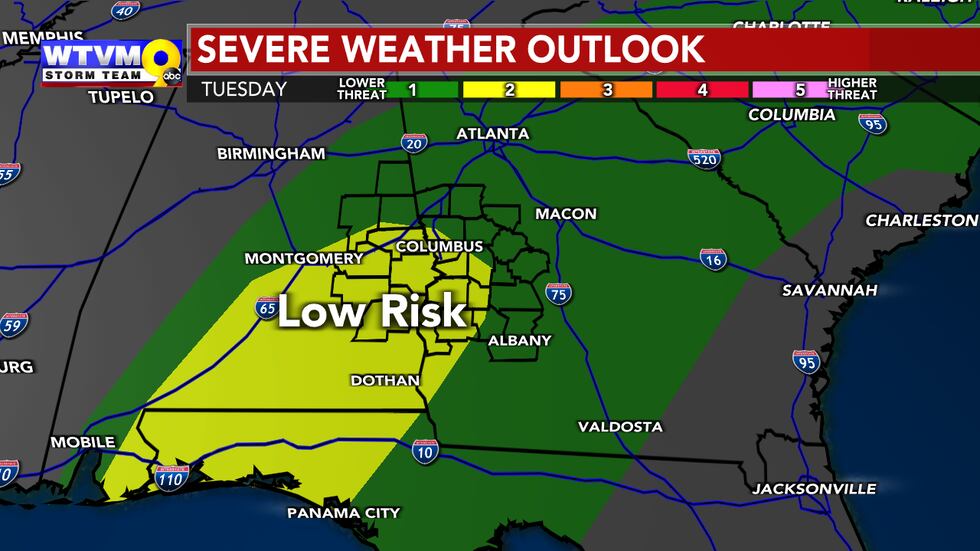 Cloudy and breezy on this Tuesday. Off and on showers have been moving through since the early morning. Any potential storms would come through during the afternoon through about 6 PM ET. While severe weather can't be ruled out given all the spin in the atmosphere, the overall risk is very low, and continues to decrease, because there's not a lot of energy to support storms for very long. However, if a storm can overcome the limitations, it may produce an isolated damaging wind gust or a brief tornado. Temperatures will be in the mid 60s to near 70 degrees all day.
While the storms end by early evening, some showers will continue before fading overnight. Lows will be in the 50s early Wednesday.
Clouds and some sun Wednesday. Mostly dry other than a stray shower or two. Cooler and still breezy. Highs in the mid 50 north to near 60 degrees elsewhere.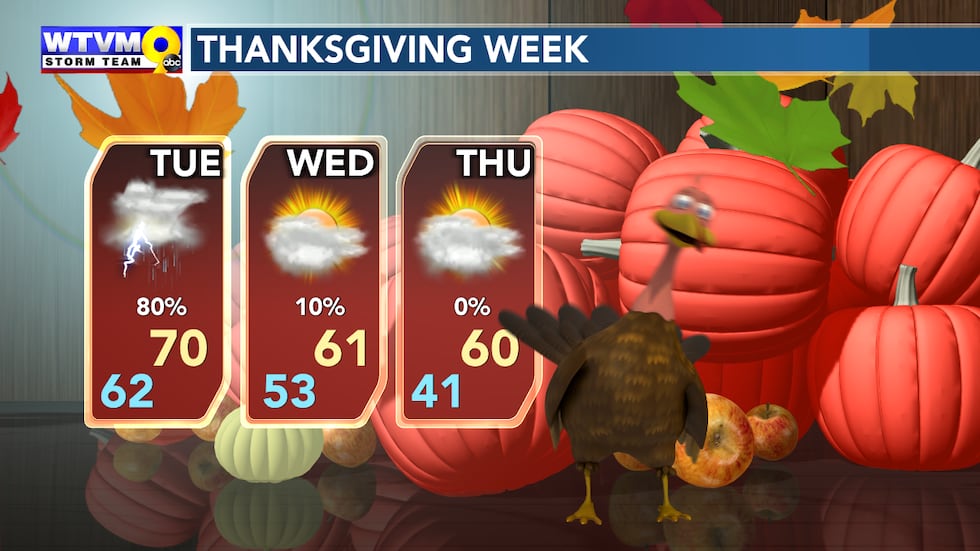 We have a lot to be thankful for this Thanksgiving. The weather looks dry, but we'll whip up some clouds again. More clouds than sun. Highs near 60 degrees after morning lows dip into the upper 30s and lower 40s.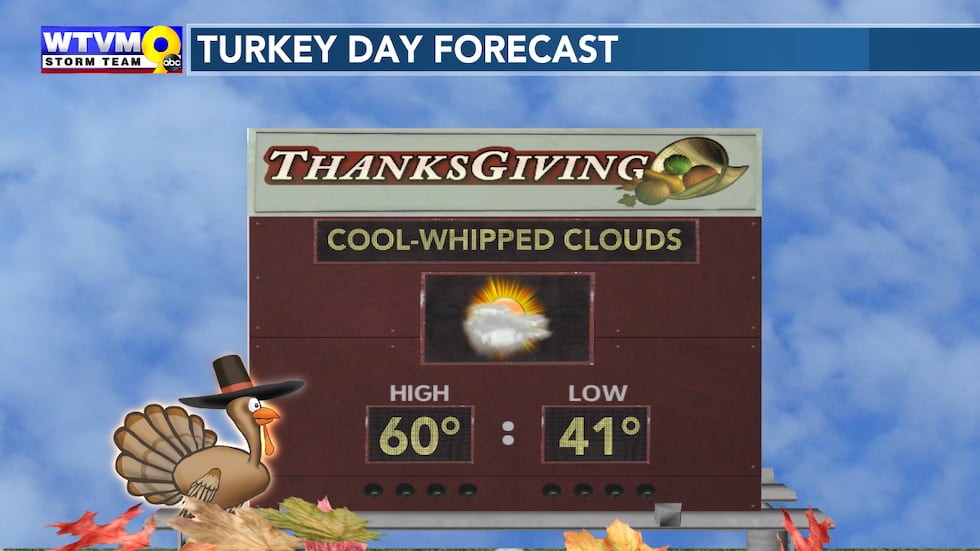 Shoppers Friday could be greeted with a few showers. Back to dry weather this weekend with a mix of sun and clouds.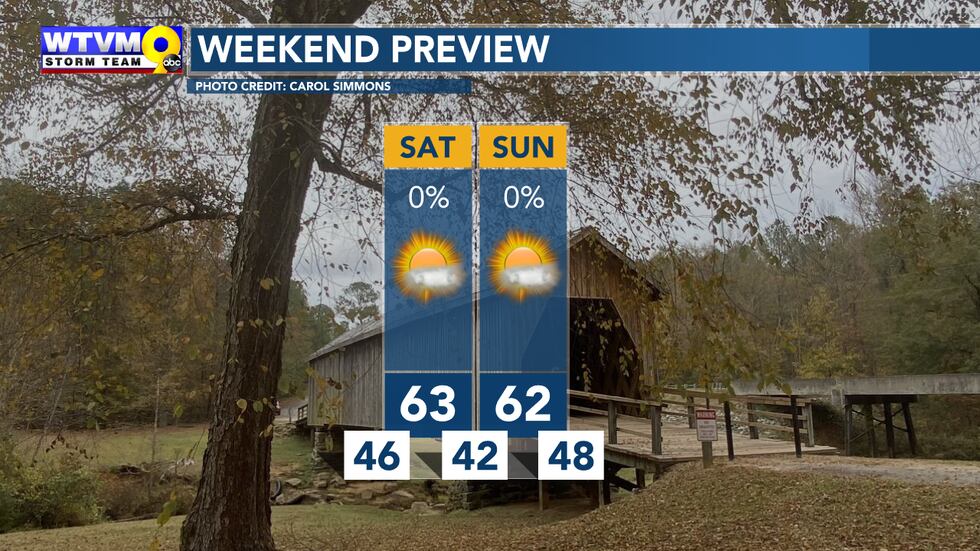 The cooler weather is sticking around, too. Temperatures will be near to below average through most of next week.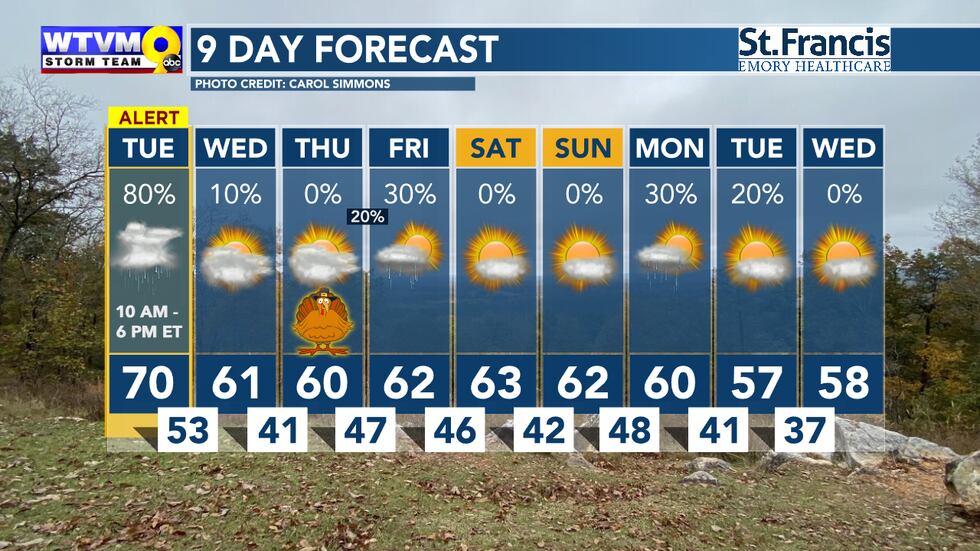 Copyright 2023 WTVM. All rights reserved.