Sponsored - The following content is created on behalf of Kia Autosport of Columbus and does not reflect the opinions of Gray Media or its editorial staff. To learn more about Kia Autosport of Columbus, visit https://www.kiaautosportcolumbus.com/
Kia AutoSport of Columbus is partnering with PAWS Humane Society to host the 'Stock the Shelter' pet supply drive to help animals in need in the community. Organizers are asking that everyone bring toys, food, and treats for animals, this includes dogs and cats.
Donations will be accepted until April 12th from noon to 6:30PM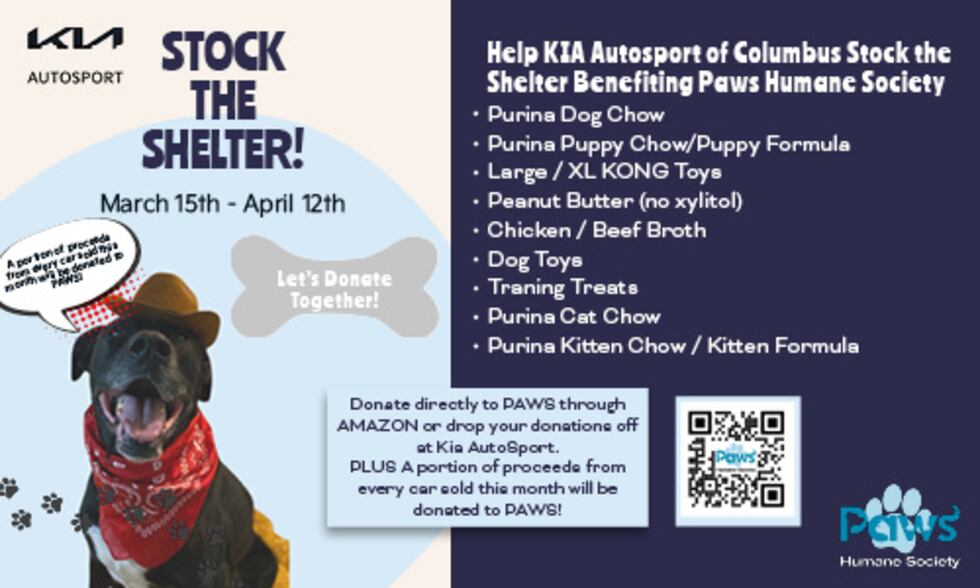 Here's a list of accepted donations:
Purina Dog Chow

Purina Puppy Chow / Puppy Formula

Large/XL KONG Toys

Peanut Butter (no xylitol)

Chicken/Beef Broth

Dog Toys

Training Treats

Purina Cat Chow

Purina Kitten Chow / Kitten Formula
You can donate directly to PAWS through Amazon or you can directly drop off your donations at the Kia AutoSport location. Kia will also donate a portion of the proceeds from every car sold this month!