Columbus public safety workers protest benefits on Broadway; mayor responds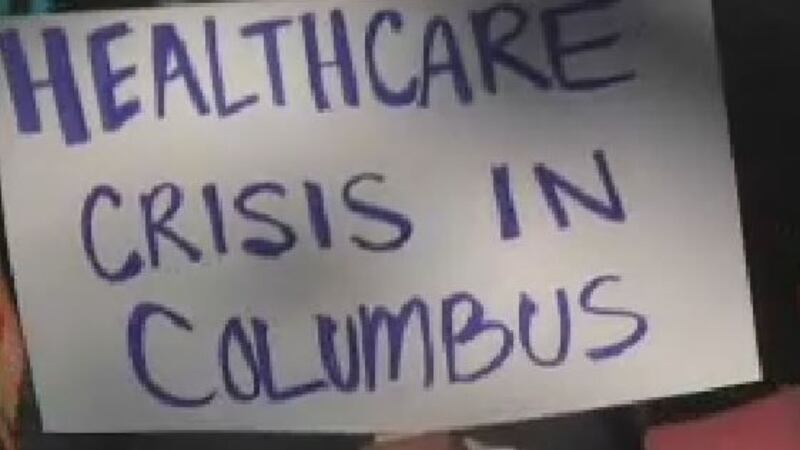 Published: Oct. 25, 2014 at 10:21 PM EDT
|
Updated: Oct. 27, 2014 at 12:32 PM EDT
A large group of protesters and public safety workers filled the 1000 block of Broadway on Saturday.
Workers from the fire department, police department, sheriff's office, the Marshall's office as well as general government employees showed up with signs to display their displeasure with their job issues.
"We are trying to get the message out today that leadership in the city is not being entirely honest to the public with what's really going on with city employees. Our healthcare cost has increased 300 percent over the past two years, and we haven't had any pay increases to make up for this increase. We aren't also being paid enough to support our families and employee retention has also been a huge issue," city employee Molly Davis said.
Davis said nearly 100 protesters came out to the event.
"We want our citizens to know that we are here for them, but we want transparency and a dialogue that will open up when it comes to our salary and benefits," Davis said. "When we decided to put this rally together, we had overwhelming support from general government employees as well as public safety."
Mayor Teresa Tomlinson explained the city is trying to balance and distribute its limited number of resources to provide the services it needs as well as to employ the people the city needs.
"I would say healthcare is a shock to our employees because at this time around, the council pulled off as long as they could make these adjustments," Tomlinson said. "And that was eating away at our reserve fund and our savings account, and now that money is just used up. But we make sure we can continue to provide the services we need to employ the people we need and to make sure that our wages are competitive from public sector standpoint. We always wish we can pay people more money but in the public sector, it's hard to keep up with private sector wages."
Tomlinson said the city is working with the police department on a pilot project to see if they can restructure their pay. She also talked about some options she came up with to help solve some issues.
"One thing we did was reform our healthcare plan," Tomlinson said. "We have three separate plans, and we formed them to include a clinic which I think provides a great foundation for the future. It will also allow us to pay for our healthcare cost and we've been looking at ways to adjust the pay situation to reform it for structure that meets the need of today."
Tomlinson said she understands that the protesters all have something important to say.
"I think great catharsis comes from people venting their frustration," Tomlinson said. "That's why we have 'Let's Talk with the Mayor' forums and if some people feel like they need to hold a rally, then I think they need to do it. They hope this won't give a bad impression to our visitors, but I think the citizens understand the situation and I've been getting supportive emails and comments on this protest today."
Davis said she attended Tomlinson's "Let's talk with the Mayor event on Oct. 23 along with other public safety workers. Davis said it still didn't clear up their frustration.
"I want them to know they have our attention and they had our attention for years," Tomlinson said. "At least they had my attention since I came into office. I see the issues related to the pay plan, the pension plan and the healthcare plan. I sought and have successfully reformed two of those three and now we are dealing with the pay plan. Again, resolution of things has existed for decades and it doesn't happen overnight."
"Mayor's forum didn't answer questions for us on Thursday. I wouldn't exactly call it productive," Davis said. "It's the same answers that have been given to us for the past four years. I guess people at the protest today didn't feel like they were being truly heard or understood."
Copyright 2014 WTVM. All rights reserved.