News Leader 9 wants you to 'Share Your Thanks-by-Giving'
Published: Nov. 10, 2014 at 1:20 PM EST
|
Updated: Nov. 23, 2014 at 10:11 AM EST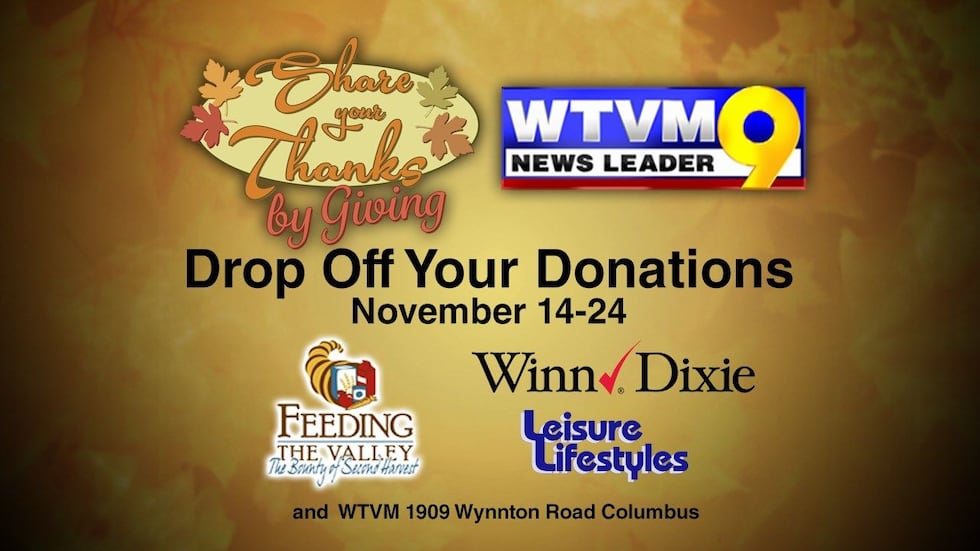 COLUMBUS, GA (WTVM) - COLUMBUS, GA (WTVM) - Feeding the Valley, a 501c3 nonprofit organization, and WTVM News Leader 9 are teaming up with Winn Dixie's local stores to help area students raise food for the local area.
This partnership will bring the message of "Share your Thanks-by-Giving" with a food drive.
"It's actually pretty bad, it's about 1 in 5 people in the valley area that live in poverty today and that comes to about 85,000 people in our coverage, so there are a lot of people," says Frank Sheppard, The Executive Director for Feeding the Valley. "That number is actually worse for children. It's about 1 in 4 so we have a lot of people that really have a need we need to get food to and that's why we're here."
Feeding the Valley serves 13 counties across West Central Georgia as well as one county in Alabama distributing more than 500,000 pounds of food a month, and this time of year is very busy for them.
"During this very time our food reserves start to get low, there are definitely empty places where pallets food should be out in the warehouse, so to have the additional help of food drives like this one really help us get through when the need for food and the demand is really high," he said.
This is the eighth year of our food drive partnership, and all of the proceeds will go to Feeding the Valley and is sponsored by Leisure Lifestyle.
Start saving your non-perishable food for #WTVMShareYourThanksbyGiving when the drive starts on Nov. 14 through Nov. 24.
Here is a list of drop off locations:
WTVM News Leader 9 at 1909 Wynnton Rd. in Columbus

Leisure Lifestyles at 5880 Veterans Pkwy. in Columbus, GA

Winn-Dixie #439 - 6770 Veterans Pkwy., Columbus, GA 31909

Winn-Dixie #443 - 4231 Macon Rd., Columbus, GA, 31907

Winn-Dixie #480 - 5750 Milgen Rd., Columbus, GA 31907

Winn-Dixie #482 - 1100 Hunt Ave., Columbus,GA 31907

Winn-Dixie #433 - 3952 US Hwy. 80, Phenix City, AL 36870

Winn-Dixie #579 - 1617 South College St., Auburn, AL 36832
Copyright 2014 WTVM. All rights reserved.