SLIDESHOW: Eufaula police warn residents about counterfeit money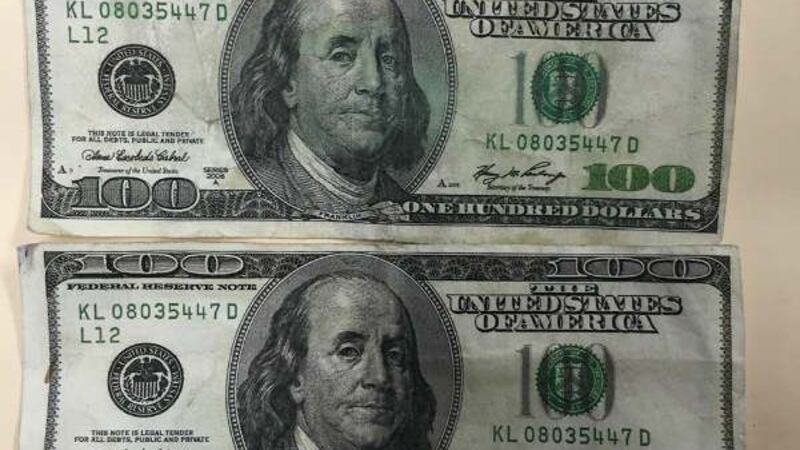 Published: Nov. 10, 2015 at 9:09 PM EST
|
Updated: Nov. 11, 2015 at 9:09 AM EST
EUFAULA, AL (WTVM) - The Eufaula Police Department reports that more than $1,000 in counterfeit money has been passed to local businesses in the past week.
To help recognize a fake bill, they ask residents to remember these tips:
A fake bill will feel "fake." This is probably the easiest way for the public to determine if a bill is real. Real money is made from cotton fiber and has a distinct feel to it. Closer inspection of a real bill will show red and blue fibers dispersed within the paper.

The print on a real bill will be sharp and crisp. The edges of the Treasury seal will be clean and a bright green color. The portrait print should be raised, making the picture stand out from the bill.

When held up to the light, there should be a clear watermark and strip running across the bill. This strip and watermark are almost impossible to duplicate and will be the surest sign of a fake bill.

The size and margins of fake bills will vary. Compare a suspicious bill to a real one and note the size difference and if the margins are uneven.


All of the bills in the photographs are counterfeit. Note the uneven edges, size differences, serial numbers that are the same, lack of watermarks, and an overall "fake" appearance. Note that the print is plain and the portraits seem "flat."
Code of Alabama 13A-9-20, Circulating Change Bills, provides that anyone who passes or circulates any paper issued without authority of law to answer the purpose of money will have committed a misdemeanor. If you are in possession of a fake bill and use it for currency, you have not only committed a crime, but you will be out the "value" of the bill.
Businesses should be marking and removing most of these bills out of circulation; however you should always check your bills as a precaution.
If you suspect a bill as being fake, please call the Eufaula Police Department at (334) 687-1200.
Copyright WTVM 2015. All rights reserved.