Harris Co. Sheriff's bold sign gaining attention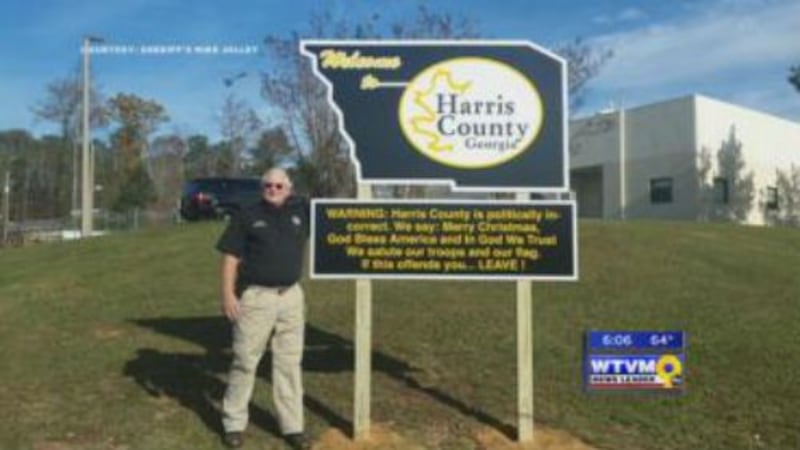 Published: Nov. 25, 2015 at 11:15 PM EST
|
Updated: Nov. 17, 2016 at 8:21 PM EST
HARRIS COUNTY, GA (WTVM) - It's the talk of the town and country. A sign that some people are calling controversial is shining the national spotlight on Harris County.
The Harris County Sheriff himself calls the sign politically incorrect. The sign reads, "Warning: Harris County is politically in-correct. We say: Merry Christmas, God Bless America and In God We Trust. We Salute our troops and our flag. If this offends you... Leave!"
The sign isn't sitting well with everyone. The American Humanist Association sent a letter to Harris County on Wednesday demanding it come down.
They claim that the sign is unconstitutional and openly hostile to people who do not share the sheriff's religious views.
One of the main concerns of citizens of Harris County was how this sign was paid for. It is important to realize that tax payers did not pay for this sign.
Sheriff Jolley paid for it himself because of how passionate he was about the sign. The total was $553, and the sheriff says people have offered to reimburse him.
Before the letter from the AHA Sheriff Jolley said,  "I've had no one ask me to take it down. And if I am ordered to take it down by some judge, I am not here to cost the county any money I will gladly move it to other properties which I have had people say they want the sign on their property."
He also has no ill will against people that disagree with his beliefs.
"I don't believe that you don't have the right to disagree with me," Sheriff Jolley said. "I spent 20 years in the Army to give people the right to disagree with me. I spent 20 years in the Army to give people the right to voice their opinions."
It seems as if the overwhelming majority of people have no problem with the Sheriff's sign or his beliefs. In fact in our Your Turn on 9 poll on WTVM.com 87 percent of voters say that they agree with the sign.
Do you agree or disagree with the sign? Cast your vote in the poll attached to this story.
Copyright WTVM 2015. All rights reserved.