SLIDESHOW: Residents trapped in homes following flooding in the Chattahoochee Valley
Published: Jul. 25, 2017 at 4:30 PM EDT
|
Updated: Jul. 25, 2017 at 7:01 PM EDT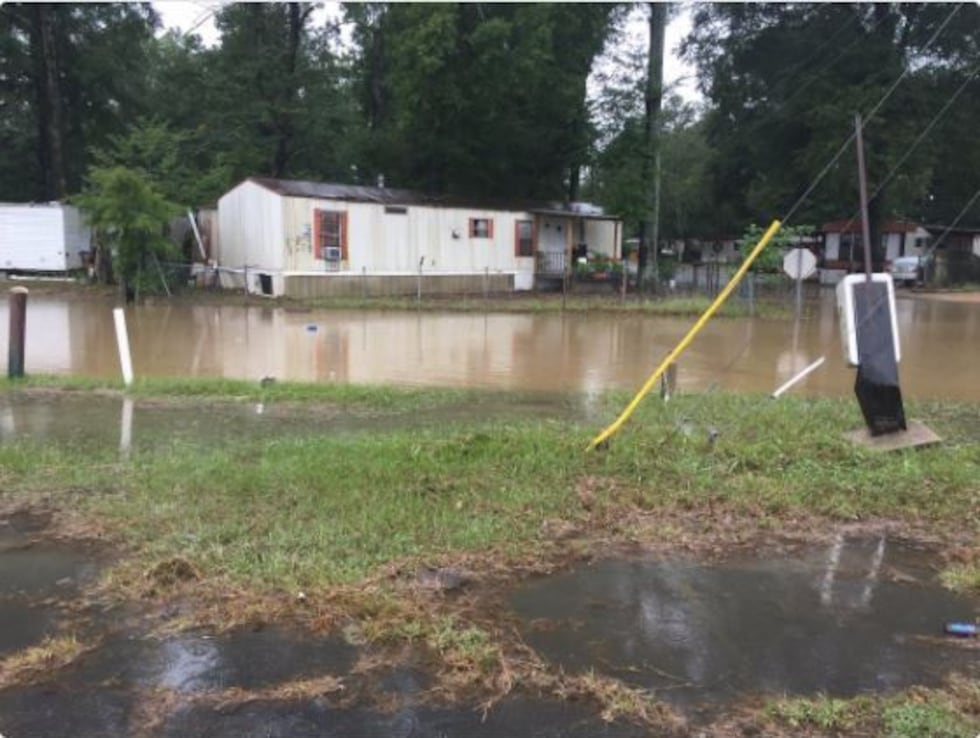 (WTVM) – Residents in Muscogee and Russell counties experienced flooding in the area following a flash flood warning issued Tuesday.
Some affected areas in Phenix City include 13th St. and LP Stough Apartments.
A flash flood warning was also issued for Chambers, Muscogee, and Tallapoosa counties.
In some places, that water was over ankle deep.
"We have to stay put, there's nothing we can do. I had to get out of my car and walk in the water over this way," said Gabrielle Brooks of Phenix City.
In less than an hour's time, Gabrielle Brooks says her yard, car, and neighborhood at LP Stough apartments in Phenix City was covered in water.
"I was sitting in my car, I had just got back from the store..and I was trying to wait until the rain slacked up before I decided to go inside the house.. but it happened so fast!," said Brooks.
Pictures taken by Brooks showing the magnitude of the flooding, at LP Stough apartments on 10th Avenue South in Phenix City. An issue Brooks says she and her neighbors have been battling for years.
"It's been an ongoing thing, we've asked to get it fixed, nothing has happened," said Brooks.
Across the river in Columbus, residents saw the same flash flooding issues. On Plateau Drive, located behind Victory Drive the street was almost knee deep in water. Some residents were not able to leave their homes.
People can't come or go, even the traffic coming from this way, Bojangles way. We just going to be trapped here for a couple days I guess until the water is gone," said Ronnie Kindred, who lives on the street.
Kindred says the flooding on Plateau Drive happened in just a moments time. The water blocking three streets, and trapping everyone living in the area.
A recurring issue that he says is looking to be fixed soon.
"If it's a real heavy rain, it doesn't take much time. This just is ridiculous," said Kindred.
WTVM reached out to both the city of Columbus, and Phenix City Public Works departments. We are currently waiting on a response from the offices in Phenix City.
Columbus officials say they are aware of the flooding issues and are working to resolve the issues.
If you are in a safe location and would like to submit your weather pictures email pix@wtvm.com.
Copyright 2017 WTVM. All rights reserved. | For more news, download the WTVM app here.