Triathletes families and friends kick off labor day with a 'float' down the river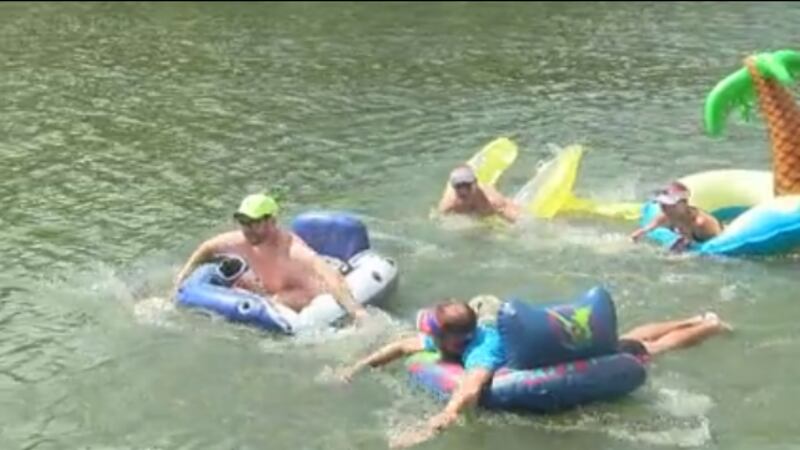 Updated: Sep. 1, 2018 at 5:50 PM EDT
COLUMBUS, GA (WTVM) - Morgan and Sam Greger took a lazy ride down the Chattahoochee River to kick off their Labor Day weekend.
"We enjoy going rafting down the river," Morgan said, "so we figured floating down the river would be pretty fun too."
What better way than picking a warm, sunny day start to their Saturday. Sam said this was the perfect opportunity to spend quality time together while the babysitter took care of other duties. The couple, docking at Rotary Park Marina, picked up their two inflatable 'poop emoji' floats to dry off.
The Gregers and nearly 50 others lazily drifted downstream after endurance athletes completed a 2.4-mile swim with Tri Columbus GA. After 'swimming the Hooch,' race director Joanne Cogle opened the 'Float the Hooch' adventure, letting people folks tap into their silly and creative side.
"They're floating down the river on man-made floats, solo floats," Cogle said, "even group floats, all sorts of floats."
When asked if they'd float down the river next year, the Gregers said they would. "To be able to have some beers and drift down the river would be great," Morgan said. "It was an awesome time," Sam said. "I would absolutely do it again."
TriColumbusGA organizers said this event, and next year's float, are open to all ages, but in the interest of safety, any floaters under 16 will wear a personal flotation device or PFD. And in the interest of creativity and spontaneity, the most original floats received special awards.
Copyright 2018 WTVM. All rights reserved.