Possible severance package underway for Columbus Police Chief
Published: Mar. 21, 2023 at 11:21 PM EDT
COLUMBUS, Ga. (WTVM) - Columbus Police Chief Freddie Blackmon laid a strategic plan for Columbus City Council on March 14.
Now, a week later, local journalist and NAACP President Wane Hailes believe Blackmon will soon be out as top cop.
"What we're hearing in the street is that Mayor Skip Henderson has offered Chief Freddie Blackmon a severance package. In order for him to do that, he has to have seven votes," said Hailes.
Seven votes are needed from city councilors who support the decision to terminate the chief without the mayor's support. However, to be clear, no one from the city will confirm the information about a vote to terminate.
"It's about transparency. If you're going to do it. Let's do it in public," said Hailes.
News Leader 9 was able to obtain emails from Hailes that were sent to supporters of the chief. He is trying to collect $250 from civic organizations to go toward a $4,000 goal. See below: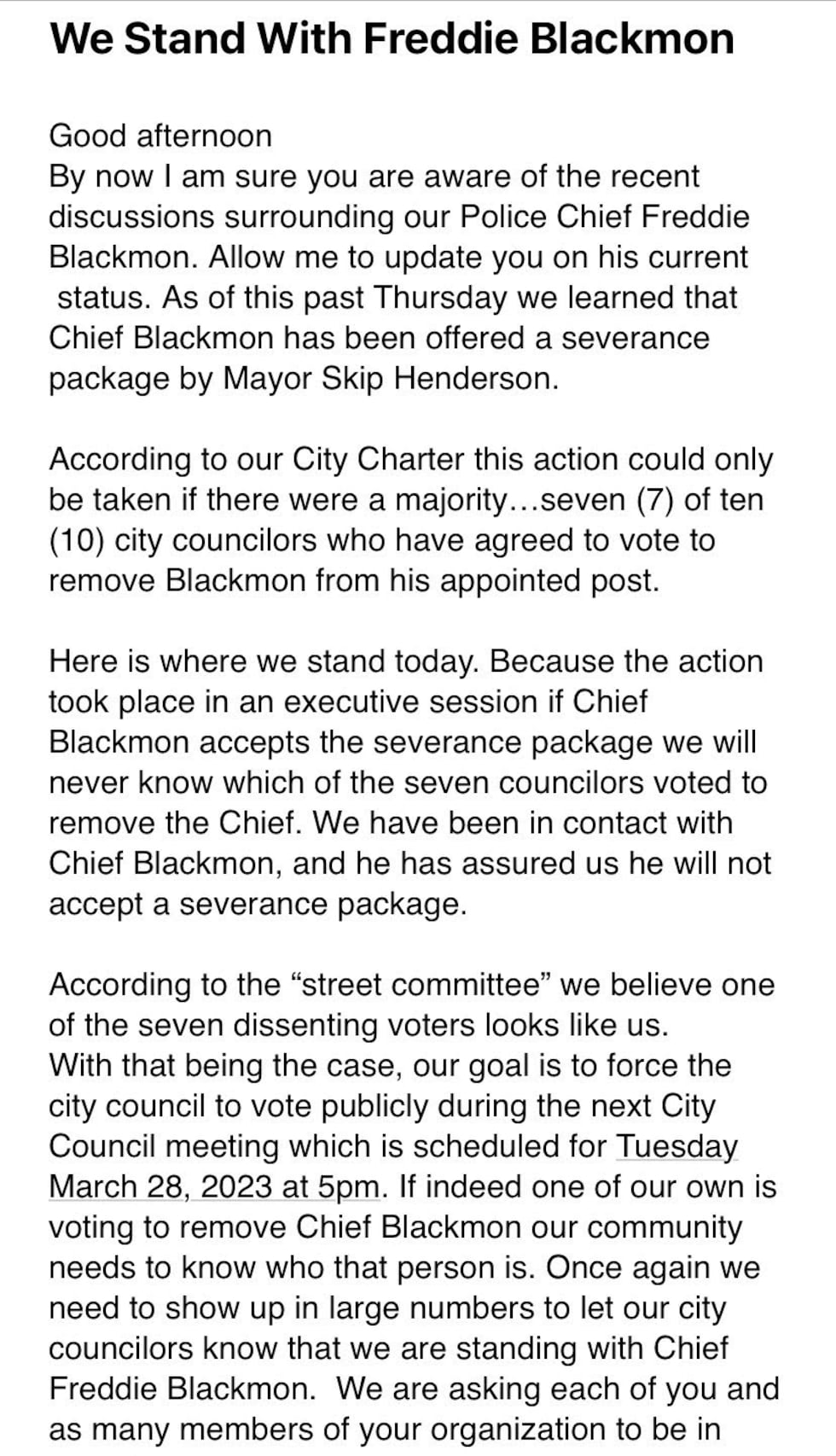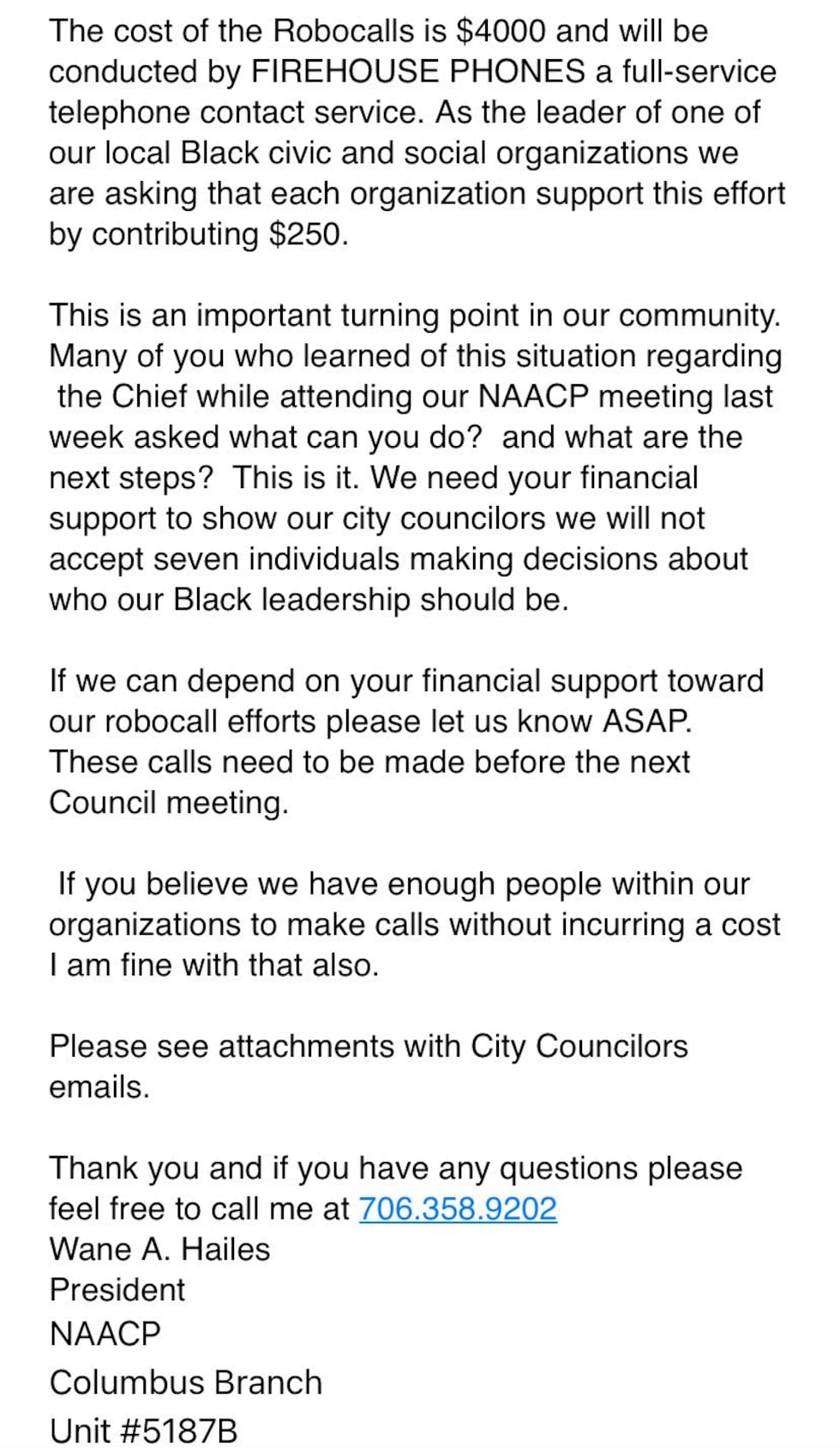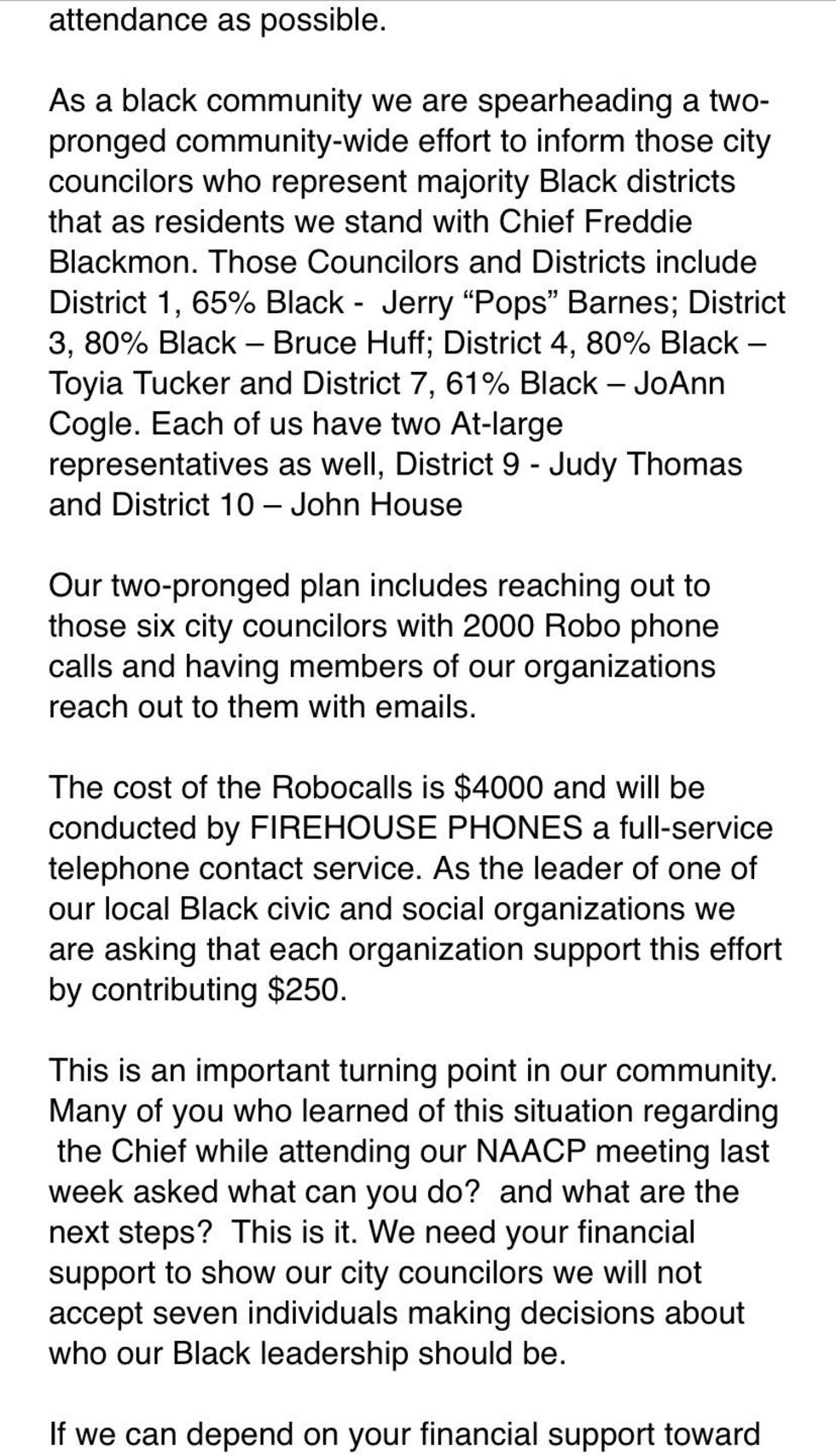 And he wants to set up 2,000 robocalls to reach out to each Columbus city councilor to show confidence in Chief Blackmon.
"Our goal is to say, look, if you have a problem with this, you need to reach out to your city councilor. That's the democratic way."
Speaking of democracy, Hailes is taking it a step further and looking to run against District 4 City Councilor Toyia Tucker next year, emphasizing city leaders should be held accountable.
Tucker could not meet face-to-face, but in response, she sent a statement saying, "It has been an honor to serve the citizens of District 4. During these final days of Women's History Month, I am proud to announce that I will be running for reelection during the 2024 election year. I pray that citizens will have confidence in me once again and reelect me in 2024."
News Leader 9 did reach out to Mayor Henderson, Chief Blackmon and the city attorney to learn more about Hailes' claims but has not received a response as of now.
The next city council meeting is on March 28.
Copyright 2023 WTVM. All rights reserved.